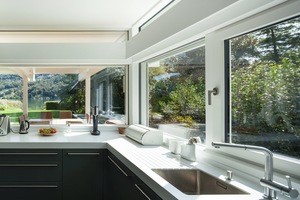 Some people view windows as a purely aesthetic addition to their homes. Others think they're only good for seeing what's going on outside. In fact, PGT windows in Fort Myers are an important safeguard for you and your loved ones.
We've seen the effects of severe weather across Southwest Florida this summer. In other parts of the Sunshine State, the result of hurricanes and tornadoes have been devastating. While there's no way to harness nature, you can protect your property from the elements. Here are some of the biggest benefits of replacement windows:
1) Safety and Security
If you've ever experienced a hurricane (or seen the effects on television), you know that high winds and airborne debris can easily wreak havoc on a home. However, when you install hurricane windows in Naples, your property will be protected from whatever Mother Nature can muster.
In addition, thieves will think twice before targeting your home. Law enforcement experts contend that lazy crooks are looking for an easy heist. When it becomes clear they can't quickly break your high-quality windows, they'll get scared and simply move on to the next house.
2) Peace and Quiet
After a long day at work, school, or around the community, the last thing you want or need is being subject to noisy neighbors, loud animals and pets, construction sounds, and other distractions. One of the many features of new windows is the ability to cut out nuisance noise by up to 90 percent.
That means you'll sleep better and wake up refreshed and ready to face a new day. In addition, pets will no longer have to endure scary sounds that hurt their sensitive ears. Kids will play safely and quietly inside without the threat of dangerous noise that could cause permanent hearing damage.
3) Cost and Energy Savings
Energy-efficiency isn't just a sales pitch. Today's replacement windows in Fort Myers can save you big money over time. In addition, you get the peace of mind that you're also helping to save the environment. This ensures your Southwest Florida lifestyle can be passed on to children, grandchildren, and other loved ones.
Plus, new windows maximize UV protection and help shield you and your family from dangerous natural occurrences. That means your windows can actually contribute to a better quality of life.
4) Quality Materials and Installation
The do-it-yourself (DIY) movement is still wildly popular in some circles. However, attempting to fix or replace your own windows is dangerous and potentially expensive. Why take the risk? When you work with a trusted and reputable company well-versed with window installation, you get the peace of mind that the project is completed correctly and efficiently. That provides you with years of enjoyment.
Over the last six decades, White Aluminum has been the trusted resource for property enhancement solutions in Southwest Florida. From screen rooms, to louvered roof systems, storm protection and security, replacement windows, and more, our innovative products are designed to help instantly improve your house and its surroundings. In addition, we're known for creating and installing high-quality aluminum pool cages in Cape Coral. Contact us today to get started on replacement windows for your home.