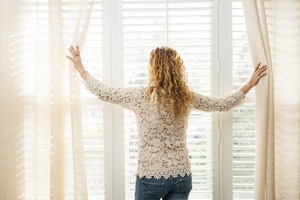 Often overlooked, windows add both fashion and function to your home. Along with providing beautiful sights of the outside world, windows also filter harmful UV light, keep your property safe from intruders, and help create a comfortable scene inside your residence. Given all this, it makes sense you'd want to highlight these attractive property additions.
For many people, finding new ways to jazz up windows can be a challenge. Thankfully, there are a few proven methods that can spruce up your property and boost your health at the same time. Here's how to get started:
1) Improve Your View
The striking Southwest Florida landscape is unmatched anywhere else in the world. Wouldn't it be great to wake up each morning to a spectacular view of your property and the majesty of nature? Now, that dream can easily become reality.
As you plan room additions to upgrade your home, don't let windows be an afterthought. Instead, these important elements can easily become the focal point of any room. For example, picture windows let in maximum light while providing breathtaking views. The functional beauty of a casement window provides both light and ventilation. In addition, sliding windows allow you to control the amount of fresh air that enters your home.
2) Enhance Quality of Life
As mentioned, today's modern windows are specially designed with your comfort and safety in mind. In addition to blocking out the sun's harmful UV rays, impact windows in Fort Myers keep your loved ones protected in times of severe weather. These essential home features also deter would-be criminals from invading your home.
In addition, windows perfectly complement any room of your home. In fact, more people are choosing to incorporate windows into "non-traditional" areas including bathrooms, kitchens, study rooms, and more. Psychologists contend that fresh air and light are major contributing factors to overall wellness. So, high-quality replacement windows in Fort Myers can actually put you on a path toward a brighter future.
Plus, with favorable weather most every day of the year, you can harness the magnificent Southwest Florida weather by choosing creative window designs and elements that maximize light, breeze, and view. It's the best of all worlds.
3) Think Beyond Curtains
For years, curtains have been the traditional option for creating indoor security, while still maintaining outdoor aesthetics. You might even use curtains in many of your home's rooms. While this tried-and-true method will always be popular, there are other ideas to consider that can take your window treatments to a new level.
For instance, many homeowners are painting their windows. Using washable paint, it's easy to re-create eye-catching seasonal designs previously only seen in store windows. In addition, burlap shades add a rustic and shabby-chic element to your décor. Or, you could add cling-on window embellishments for just the right amount of privacy.
Show your artistic side by hanging a striking macramé in front of a window. When the sun shines in, you create an artful scene worthy of the finest gallery. Make windows a highlight of the room by draping canopies. Other ideas include hanging decorations, inside shutters, and more.
4) Start with a Solid Foundation
The days of boring old windows are over. Now, it's easy and affordable to get attractive Naples windows and doors in a variety of shapes and sizes. In fact, windows from White Aluminum can be tailored to your exact desires and requirements. You won't get that attention to detail and personalized service from anywhere else.
For more than 60 years, we've assisted homeowners just like you with a variety of property enhancement solutions. From eye-catching windows, to acrylic and vinyl rooms, awnings and shutters, carports and patio covers, do-it-yourself (DIY) kits, and much more, we're the go-to resource for people across Southwest Florida.
In addition, we've built a solid reputation as a premier outlet for replacement windows in Fort Myers, Florida. You need and deserve a partner that can help your property stand out and become the private oasis of which you've always dreamed. Contact us today to see how simple and straight-forward it is to install new windows at your residence.