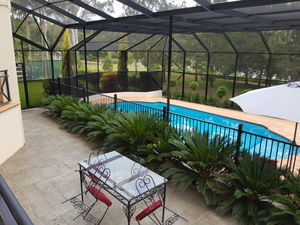 New residents and visitors to Fort Myers often comment on the pool enclosures they see around the community. For some people, it's not a common sight. However, these structures come with many important benefits.
Pool enclosures protect your loved ones from the sun's harmful UV rays. In addition, they keep out dirt/debris, pests, and unwanted guests such as curious wildlife. Likewise, pool enclosures discouraging wandering. That means kids and pets stay safe inside.
In this article, you'll learn more about how a high-quality aluminum pool enclosure can improve your quality of life.
Added Value
REALTORs® agree that prospective home buyers are impressed by outdoor swimming pools that are enclosed. Even if you're not planning on selling your home, having this structure in place contributes to a higher overall property value than if your pool was left exposed to the elements. Pool enclosures also make your home look larger. This aesthetic appearance contributes to an improved curb appeal.
In addition, when your pool is protected by sturdy mesh fiberglass screening, you'll save on cleaning costs, since dirt/debris, bugs, and other foreign objects won't end up in your pool.
Plus, pool enclosures in Naples, Florida are an ideal spot for entertaining. Whether you're hosting a neighborhood party or enjoying an outdoor lunch with the family, these structures allow you have fun and make memories in comfort and style.
Increased Privacy and Safety
As mentioned, everyone is safer under a high-quality aluminum pool enclosure. For instance, when kids are having fun, they're usually not well-focused on their surrounding environment.
That means a child could easily wander off and get themselves into a compromising situation. However, pool enclosures set a clear boundary — keeping kids and pets safely contained where you can see them.
Especially in the summer, the sun's intense heat and UV rays can be harmful to people's health. Pool cages in Cape Coral are designed to filter those rays, keeping you cool and protected. Plus, high-quality pool enclosures are built to withstand high winds. That's especially important in times of severe weather.
In addition, you'll enjoy the heightened privacy and security pool enclosures provide. The screen naturally provides shade and cover, while the structure itself discourages ne'er-do-wells and unwanted guests.
Decreased Maintenance
Along with the mentioned benefits of keeping foreign objects out of your pool, enclosures also reduce the amount of chemicals required to maintain an optimum balance.
That's because pool enclosures drastically reduce exposure to phosphates, pathogens, and environmental pollutants that compromise water quality. Not only does this save you money, but fewer chemicals reduces the risk that your guests will experience skin or eye irritation from chemical overuse.
In addition, enclosures extend your swimming season and allow you to enjoy the pool no matter the time of day. That means you'll save both time and money on accessories such as pool covers and other considerations.
Easy and Affordable Installation
For decades, we've helped homeowners in Fort Myers and the surrounding area with innovative and unique property enhancement solutions. Our friendly and knowledgeable staff are always glad to answer your questions.
From high-quality aluminum pool enclosures, to screen rooms, louvered roof systems, carports, replacement windows, and much more, we have products to match your home improvement desires and requirements. Contact us today to get started.