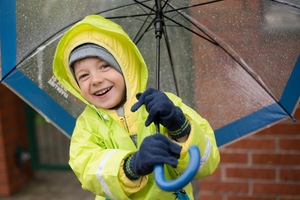 Clouds rolling in? Don't worry—a rainy day doesn't have to thwart your fun. In fact, we think it can do just the opposite!
From your Fort Myers home, you're perfectly positioned to enjoy a rainy day to the fullest. Wondering how? Take a look at today's blog to find out a few of our best ideas.
Build forts
This classic childhood pastime has not lost its appeal for today's families! If you find yourself cooped up inside due to the weather, make the most of it by assembling a fun hideaway fort. Use furniture pieces as your anchors for a fort made out of blankets, sheets, and whatever else you have on hand. Fill up your fort with snacks, books, and flashlights for shadow fun and spooky faces!
Have a movie day
All can appreciate the appeal of a movie night at home, but who says you can't host one during the daytime? Draw your curtains and let the rain come down as you enjoy popcorn and your favorite flicks.
Visit the Imaginarium
This Fort Myers treat is as fun to enjoy on a rainy day as it is on a sunny one. Even on a stormy afternoon that might prevent you from exploring outdoor wildlife, you will be able to experience unique opportunities like a marine touch tank and exciting animal encounter shows the whole family can enjoy.
Go shopping
If you've got the shopping bug, Fort Myers is a great place to indulge it. One top spot is the Edison Mall, where you can enjoy a laidback shopping experience any day, rain or shine!
Watch the storm
We think one of the simplest ways to enjoy a rainy day is to kick back, relax, and watch the weather in action! Sit in your sunroom for a dry, comfy position to enjoy the rain and natural light show in the sky. It's a cozy, laidback setting where you can have a cup of coffee or enjoy lunchtime with friends.
What's your go-to tip for rainy days? Be sure to share it with us below! And of course, if you need help with solutions like sunrooms that will make rainy days a little sweeter, call White Aluminum & Windows Fort Myers today to find out more.