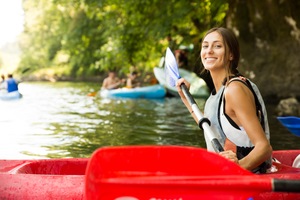 It's no surprise Fort Myers can be fancy and fun but sometimes it's nice to just be natural.
Whether you're a good friend of mother nature or just a history enthusiast, there are many inspiring parks to explore along the coast of Fort Myers, just see below!
The Great Calusa Blueway
One of the greatest things about the many waterways in Fort Myers is the launch and rental facilities that come along with them.
Like The Great Calusa Blueway, many water ports have the option of going directly into adventures or taking a guided tour to notable spots. If you love to paddle board, kayak, or canoe then you must go through this trail, it's the finest in the area!
Lovers Key State Park
If you need a little romantic getaway or showing some friends what your town has to offer, then this park is a definite must-see.
This park is land and water friendly so pack accordingly to what you want to do. Hike through nature trails, rent a bike, paddle through a tidal lagoon, or just lounge on the beach. The scenery surrounding this park is like no other- enjoy bird sightings and lush trees while getting a tan.
J.N. "Dine" Darling Natural Wildlife
Do you ever get the urge to see something in its natural state, untouched by man? This mangrove ecosystem is one of the largest undeveloped preserves in the country.
Find acres of tidal flats fit for canoe tours- go fast in the open waters, or leisurely along water trails. Freshwater marshes and hardwood hammocks are dressed in hundreds of bird species and other marine life that call this beautiful place home.
Caloosahatchee Regional Park
Above all, this is truly where nature meets history. Explorers of all ages can indulge in the many different aspects this preserve offers.
Not only can you take an unforgettable day trip here, you can also camp under the stars and in the trees. When you wake up- keep the adventures going! Embark on a six-hour guided tour and kayak trip to another national park where lunch and more hiking are a must.
We think the mentioned places are a sure start to get you out into the wild life of Fort Myers. You can live in this beautiful place for years and not know about these hidden treasures. White Aluminum cares about the areas we serve and think the residents should know all there is about their beautiful town.
Don't forget if you ever want to experience more nature from the inside of your home then give us a call for window replacements and backyard additions!