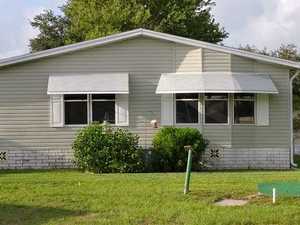 Make the most of the Florida sunshine and enjoy your property to the fullest. Learn how awnings can take your outdoor enjoyment to the next level.
Across Southwest Florida, homeowners are discovering the varied benefits of adding awnings to their property. In fact, you may have seen this home enhancement solution in your region and wondered if it would work well at your residence.
The short answer is yes. That's because awnings allow you to enjoy Florida sunshine and nature while still staying protected from the elements. You could also boost your entertaining efforts. Plus, awnings can provide much-desired privacy for you and your loved ones.
Best off all, your high-quality aluminum awning can be tailored to your exact needs and preferences. Read on to learn more about the many perks of installing awnings on your property.
Versatility
As mentioned, awnings provide shade and a comfortable spot for entertaining. In addition, this is the ideal space for kids and pets to relax and enjoy nature without having to endure the sometimes-harsh elements of Southwest Florida.
Plus, just like pool cages in Cape Coral, you can use awnings at your residence year-round. Just imagine the all-season enjoyment you could get from your awning. During the autumn and winter months, you might place a space heater under your awning and breathe in the brisk air without feeling too much of a chill.
When springtime rolls around, you'll be protected from any chance rainfall we sometimes get here in Fort Myers and the surrounding area. In the summer months, you and your loved ones can enjoy special bonding time under the shade of your awning.
Durability
High-quality aluminum awnings are naturally water and rust-resistant. Plus, our slatted awnings allow natural light to shine through, while filter the sun's harmful UV rays. With a variety of styles to choose from, it's easy to get the best awning to match your needs.
When coupled with PGT windows in Fort Myers, your property is shielded from whatever Mother Nature can muster.
Cost Savings
Aesthetics aside, did you know that aluminum awnings can actually help you save money over the long-term? That's because this home improvement marvel reduces solar heat directed toward your windows. In turn, that could result in a 25 percent overall bill reduction in the summer months! You'll also put less strain on your air conditioner, which means fewer repairs and a longer life of the unit.
In addition, awnings help expand your living space. Rather than build an extra room, you'll enjoy a new area of your residence in which to relax and unwind. Just like Fort Myers hurricane windows can help prevent damage during a storm, awnings will also keep the sun from fading furniture and flooring around your home's exterior.
Improved Property Value
Even if you're not planning to sell your home anytime soon, it's still nice to have a residence of which you can feel proud. REALTORs® say prospective buyers will often choose a home with awnings over one that doesn't feature this added protection. At the least, you'll certainly get attention from neighbors, guests, and passersby.
Awnings are low maintenance and require little care. Plus, installation is simple and straight-forward. You could even pair your awning with other home improvement solutions such as Florida sunrooms, pergolas and ultra-lattice shade, carports and patio covers, do-it-yourself (DIY) kits, and more.
For more than 60 years, White Aluminum has delighted countless homeowners just like you with the innovative products we offer. We've also become well-known as the premier resource for pool enclosures in Naples, Florida and throughout the region. Contact us today to discover how high-quality aluminum awnings can work for your property.