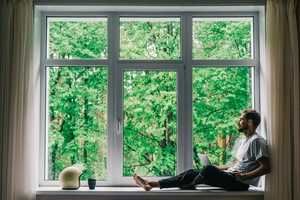 Instantly upgrading energy efficiency is one of the main reasons why so many homeowners choose to update their old windows with eco-friendly replacement windows. In fact, installing new windows comes with plenty of great benefits. However, there are a lot of factors that will determine how much improved performance and comfort you can expect to find in your home after making the switch. When you're perusing the market for your new replacement windows, keep these factors in mind.
Energy Efficient Glass
Dual-pane window glass insulates nearly twice as well as single-pane glass. Predictably, triple-pane glass maximizes a home's energy efficiency. This is because substances like inert argon gas can be used between panes of glass to improve insulating properties and reduce thermal transfer. That means more comfort for homeowners.
Window Installation
You should always trust window installation to the experts. Don't believe us? Improperly installed windows may not operate properly, and they can enable air infiltration and facilitate costly water damage. Window installation experts like White Aluminum will check the level, plumb, bowing, square, and the reveal to make sure your windows are installed correctly.
Window Placement
Did you know that you can improve your home's energy efficiency by selecting specific low emissivity glass coatings for different areas of your home? These coatings are layers of thermal protection inside of insulating glass that do the following:
Reflect outdoor heat and retain indoor cooling
Reflect wintry chill and keep your home warm
Block harmful UV rays and prevent sun damage
Region
You cannot pick out the best replacement windows for your home without first considering your geographic location and climate. This is because some windows are designed for specific climate types. Fortunately, White Aluminum boasts a plethora of different energy efficient replacement windows, and we will help you discover the best fit for your Fort Myers home.
Window Frame Construction
Your choice of window frame material will influence your windows' overall energy efficiency. Different materials provide different pros and cons. For example, wood windows provide excellent insulation because wood has low conductivity. On the other hand, vinyl frames reduce heat loss for added energy efficiency, plus they are remarkably easy to clean and maintain. Let White Aluminum help you pick out the material that is best suited for your home.
Whether you're on the market for cutting edge replacement windows, or you're simply looking for ways to improve your existing windows, our guidelines above can help make sure you're considering the most important factors. Choosing the best energy efficient windows for your home is easy when you work with the experts at White Aluminum! Contact us today to speak with our friendly team of professionals and learn which steps come next for your project.