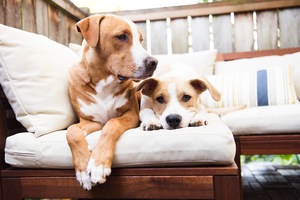 For the seasoned outdoor entertainer, patio furniture isn't just an afterthought—it's as important as the sofas and chairs we sink into indoors, too.
Patio furniture is tasked with providing you and your guests with a comfy place to sit during dinners al fresco and poolside get togethers—but it must also fit the look of your yard and stand up to the elements. It's a tall order! To ensure that your outdoor furniture is up to the challenge, read on and see a few of our best tips.
Start with the right material
Every beautiful backyard setup starts the same: with the right kind of furniture! Your outdoor space is beautiful, and your table and chairs should be equally appealing. In addition to aesthetics, be sure to keep the material itself in mind, too. Each kind of furniture has its pros and cons, but generally sticking to sturdy picks like aluminum or wrought iron is a great idea. For a more natural, wood-like look, that doesn't rust, synthetic resign picks are also worth considering, as they offer a long-lasting finish you can enjoy for years to come.
Keep an eye out for bad weather
We all know to bring our furniture indoors (or at least under cover) during big summer storms and, of course, hurricanes. But if you have pillows and cushions you'd like to keep as fresh and comfy as possible, consider bringing those in ahead of especially rainy weather.
Provide your furniture with shade
Just like you crave cool, protective shade on a sunny day, your furniture does, too! Keeping your furniture out of the direct sunlight, whenever possible, can help maintain its color and longevity. You can also consider adding protective features like pergolas, awnings, patio covers and more.
Cover when necessary
Finally, if you ever plan to go out of town (especially during the summer months) covering your furniture or bringing it into the garage can keep it safe and fresh for when you're home, and ready to enjoy it.
We hope that these tips help your patio furniture provide the perfect backdrop to family dinners, weekend brunches, pool parties and everything in between. For assistance with additions that will keep your furniture safe, dry, and longer-lasting, call White Aluminum & Windows Fort Myers today. We're here to help!