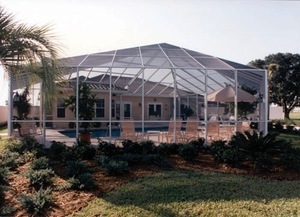 Here in the Sunshine State, we're lucky enough to enjoy year-round splashing fun - whether at the beach or our very own backyard pools! With the help of pool enclosures a.k.a. pool cages Cape Coral, Fort Myers and all Gulf Coast homeowners can take their pool days to the next level. Just read on to see four signs that a pool enclosure might be right for you.
You spend more time sweeping than you do splashing or swimming
One of the biggest tell-tale signs that it's time for a pool enclosure is that you spend way too much time sweeping away leaves, seeds and debris from your patio (and skimming it from your pool's surface, too). While every homeowner is accustomed to maintaining their home and taking care of fixes, cleanups and repairs as needed, you don't want to spend more time caring for your poolscape than you do actively swimming in it. A beautiful enclosure can keep natural litter at bay, helping you maintain a more pristine pool environment that's always ready for fun.
You're done with swatting and spraying
Our mesh pool enclosures also keep away uninvited guests such as flies and mosquitoes! If you're done swatting away bugs as you try to relax poolside, or spraying insect repellent, a pool enclosure will be especially appreciated (especially once we get into the summer months)!
You want a warmer swimming experience
Though a pool enclosure may not be able to fully replace the role of a pool heating system, many homeowners find that it provides a more pleasant swimming experience because heat stays closer to the surface (as opposed to escaping to the air around your pool).
You want to save on pool upkeep costs
As you might expect, this "greenhouse effect" can result in some serious savings! The chemicals used to keep your pool looking its best will be able to stay in the water, where they are most effective. Plus, the same idea applies to heat - so if you do already have a pool heating system, you likely won't need to spend quite as much on running it during cooler months!
You have a one-of-a-kind style
White Aluminum's pool enclosures are for homeowners who don't only want the functional benefits of shelter, but have a one-of-a-kind style they want to express in their outdoor space, too! Choose a color and enclosure shape that matches your home's unique design scheme, and we'll bring it to life around your pool.
The results are in - you deserve a beautiful, functional pool enclosure! Contact White Aluminum Fort Myers today to learn more about the convenient process ahead. We can't wait to work with you.