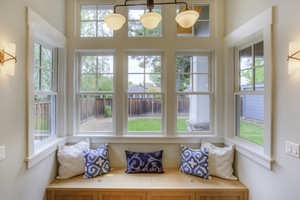 Windows are an often-underestimated aspect of any home. While people take in the aesthetic beauty of architecture and landscaping, windows sometimes become an afterthought.
They are, of course, essential to the finished product of any quality home. Providing light and views of the outside, windows also help maintain pleasant temperatures inside — keeping us cool in the summer and warm in the winter.
Here's why you should take a closer look at the windows of your Fort Myers home:
Money-Saving Climate Control
A reality of living in Florida is sometimes extreme temperatures. You know that every summer will be hot and humid, and lately the winters have brought with them cool air.
Climate control is one of the biggest categories in the budget of any household. But innovative window treatment solutions can reduce nature's impact — saving you time and money. From window tinting, insulation, and more, there are options to fit every budget and style.
A New Level of Energy-Efficiency
Far more than a buzz-phrase, energy efficiency is a sound decision that contributes to a healthier environment and brighter future for the next generation.
For windows, efficiency starts with choosing a frame to match your style and budget. Available options include wood, vinyl, aluminum, and more. The next decision is the window itself. There are many options in this department, as well. Speak with a qualified window treatment professional to determine which option is right for you.
Whatever you decide, it's easy to find windows that provide excellent insulation and protection from the elements.
Safety and Security Built-In
Along with maximum energy efficiency, quality windows can also withstand an attack from potential burglars. Crooks won't stick around when they realize they can't easily access your home.
And that's saying nothing about the noise-masking ability of quality windows. Once installed, you'll notice a marked reduction in noise generated by barking dogs, busy traffic (including trains), and other sources of unwanted sound. Also, you won't have to worry about complaints from neighbors, should you choose to host a party or listen to music at a level comfortable for you.
Customized to Your Wants and Needs
We offer many styles and options to fit any budget. Regardless of the size of your home or business, we can help you find the perfect windows to match your wants and needs. Offering more than six decades of experience and integrity, we can help ensure your Fort Myers home has it all: energy efficiency, safety and security, and visual appeal to boot! Contact us today to learn more.