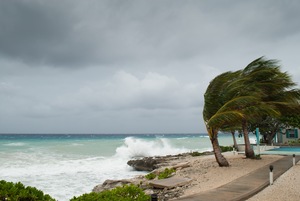 In recent years, Florida has witnessed active hurricane seasons. Forecasters predict there will be at least one major hurricane for the next several years.
No one wants to think they'll be confronted with the worst-case scenario. But news reports (and maybe even your own personal experiences) have proven the potentially-devastating effects of hurricanes, tornadoes, and other severe weather.
We need not look further than our own Fort Myers community to see evidence of that: businesses destroyed, homes leveled, property damage in the millions of dollars, and thousands of people displaced with nowhere to go and no idea when their lives will begin to get back to normal.
That's why it's important to start making plans now to protect your property and family from potential weather threats during the warmer months. Here's how to get started:
Inspect Your Property and Make Repairs
Severe weather takes a toll on any structure, even if the damage isn't immediately visible to the naked eye. Before disaster strikes, take time to thoroughly inspect both the in and outside of your home — paying special attention to foundation cracks, flaking stucco or split siding, damaged gutters, and more.
Repair and replace those things you're able to on your own, and hire a licensed contractor to make other necessary repairs. This will ensure your home is in tip-top shape going into hurricane season.
It's also a good idea to check trees and landscaping for debris that could pose a hazard during high winds. The fact is that tree-removal services and landscapers are often booked solid in the summer months. That means now's the time to schedule necessary maintenance.
Stock and Update Your Hurricane Kit
If you've ever shopped in the weeks prior to a hurricane making landfall, you know that stores are packed, and goods are in short supply. Save yourself the frustration and risk by adding a few items to your hurricane kit each week. This method also saves money.
At a minimum, a well-stocked hurricane kit should include:
first aid
fully-charged communications (radio, smartphone)
at least a week's worth of food and water for you and your family
medications
important documents
In addition, home stores quickly run out of essentials such as plywood and generators. Buying and storing these items now gives you peace of mind that your family will be well-prepared.
Make a Disaster Plan for Your Family
During chaotic events, it's difficult for everyone to know where they're supposed to be, and what they're supposed to be doing. Some people may become overwhelmed and shut down emotionally.
Avoid this scenario by doing a run-through while everyone's calm and able to think clearly. Decide where family members will meet in the event of an unplanned evacuation.
In some cases, a mandatory evacuation is issued. While law enforcement can't physically remove you from your property or even issues fines for not evacuating, they are also unable to guarantee your safety and rescue. Make a plan of where you will go should this occur, as well as details such as how you'll pay for meal and lodging expenses, what will be done with pets, and other considerations.
Consult the Experts
Hurricane preparation can be overwhelming, but it doesn't have to be. While you focus on the safety of your family, let us help keep your home free of damage.
Our qualified staff can advise you on necessary repairs and upgrades to ensure your Fort Myers property will remain safe during severe weather, and any time of the year. We can then schedule appointments to complete necessary work. Contact us today to get started!