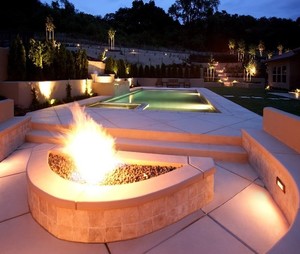 As we begin to welcome the new season, are you dreading saying goodbye to your backyard summer parties?
How about this idea – don't say goodbye at all! With a few home improvements, you can party-on all year long. Look at today's blog to see how you can make summer last even longer.
Reuse summer seating
Chairs and couches with comfy cushions are perfect options for summer seating – but come fall, as you might find yourself transitioning to warmer styles, your summer furniture will still come in handy!
Use the same furniture pieces but swap out your cushions. This way, you can save money by not buying big-ticket items, while still giving your backyard that fall feel.
Incorporate summer shade into autumn warmth
For so many Floridians, the seasons are all about beating the heat (or finding some)! Summer is, of course, the hottest season when we seek shade – fall, on the other hand, is when we see a slight decline in temperature and seek some warmth.
Put the two together right under your pergola and you now have a versatile place you can seek summer shade or autumn warmth. For example, pair your pergola's summer furniture with cozy, earth-toned blankets for a warmer touch!
Heat up your space
Firepits are a timeless piece of year-round memorabilia in and of itself. While it may have been too hot this summer to light the fire many times, their covers make a great table-like ottoman. But this fall, swap out the cover for the fire, let the wood show and welcome the new season with the same summer heat.
Go big with a blank slate
Very few things have a universal effect – the outdoors is one of them!
We always associate the blue sky and neon yellows with the heat of summer, which is why the great outdoors can bridge together the best of each season – especially from the inside of your home! Consider adding extra or replacement windows in your home for a true "blank slate." Now you can welcome the seasons to come with the spirit of summer still in mind.
Fort Myers is a year-round paradise, and with these simple tips, your home can be as well! Adding these home improvements is just a few simple steps away when you use White Aluminum. We offer ways you can DIY (do-it-yourself) or you can always hire one of our professionals who will be happy to get the job done for you!