Storm Protection & Security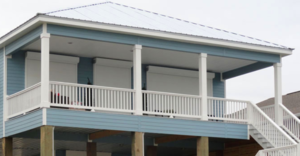 Safe and secure
In addition to top-quality garage door braces, storm panels and shutters, we offer a range of other Florida storm protection products, including security screen and high-impact windows. Our list continues to grow as new products become available, and most of our Florida storm protection products are available in Do-It-Yourself Kits.
Maximum Storm Security
Fast and Easy Installation
Effective Florida Storm Protection
Installing hurricane shutters on your windows are essential protection for your Florida home for both you and your family. Anywhere along the Florida coast is regularly at risk for tropical storms and hurricanes, so providing this extra layer of financial security can help reduce the damage and repairs needed should a storm come ashore. There are many different styles available on the market that fit both cost and aesthetic needs of homeowners. When shopping around for hurricane shutters you will want to look at impact-resistant ratings to make sure your getting quality protection. Keep in mind that the most durable and permanent options will cost more than a lower cost temporary solution.
Rolling Shutters: The roll down storm shutter provides the most benefits beyond hurricane protection. A rolling storm shutter is mounted to the structure around the opening to be protected with rails at both sides, and a head box that houses the curtain when open. When not in use, this type of hurricane protection can provide your home with added insulation and privacy as well.


Accordion Shutters: This type of hurricane storm shutter stacks beside the opening when not in use and unfolds accordion style to cover and protect during a storm. This need to be manually unfolded accordion-style and then locked into place to offer protection. Accordion storm shutters are usually more affordable than ones that roll up and down, but since they're permanently attached to the side of your window, they might look a little bulkier. They're also great for large, sliding glass doors.


Bahama Shutters: Bahama Shutters employ articulating louvers that offer the best outward views, with the ability to close and prohibit large volumes of air from pressurizing the structure. These are permanently affixed to your home or business so they require no storage space. Available in white, bronze, or powder coated in standard RAL colors.