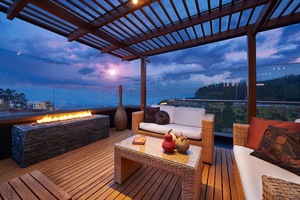 Pergolas have been used for centuries in locations across the world. Historians can trace pergolas back to the ancient Egyptians and beyond. Here in Southwest Florida, more homeowners have embraced the style and versatility of having a high-quality aluminum pergola installed in the backyard.
As with any home improvement project, however, it's important to know what you're getting into before you move forward. Reaching that goal is simple when you ask and get the answers to a few pointed questions. That way, you can be sure you'll end up with a property structure that you and your family can cherish for years to come. Here are some of the most popular considerations when it comes to pergola installation:
1) Materials and Design
When looking at a pergola, you might think the structure is overly simple. Instead, building a durable pergola takes some planning. For example, the materials used are very important to ensure a structure that can withstand the sometimes-harsh Southwest Florida elements. Naturally water and rust-resistant, aluminum pergolas can stand up to most anything Mother Nature can muster.
The next thing to think about is the style of your pergola. Will you feature an arch with curves and lines throughout? Maybe you prefer a more traditional structure with straight and solid posts. Or you might have other ideas for a selection that will perfectly complement other property enhancement solutions in and around your home.
Just as you pay close attention to the quality of impact windows in Fort Myers, it's important to choose a builder who uses only the very best and most durable materials available to construct a truly eye-catching pergola.
2) Use and Size
Once you've decided on material and design considerations, it's time to think about how you'll use the pergola. Maybe you're seeking a personal haven where you can take a break from daily stresses. Or perhaps you plan to entertain throughout the year, and are looking for a cozy spot to host friends and loved ones. You might also want a private area where you can simply relax and unwind, hidden from the view of neighbors and passersby.
Similar to pool enclosures in Naples, Florida, high-quality aluminum pergolas provide sanctuary from the sun's harmful rays, while still allowing you to fully experience nature and the beauty of your own backyard.
3) Installation and Maintenance
Some homeowners avoid property enhancement solutions for fear their houses will be out of commission for months on end. Instead, building and installing an aluminum pergola on your property is a simple and straight-forward process.
In addition, your builder can provide answers to your most pressing questions, including what materials are used, sizing considerations, placement of the pergola, how much or little shade you want to create, incorporation with other improvement elements on your property, and of course your own specific questions and concerns.
For more than 60 years, we've been proud to assist in the property improvement projects of countless Southwest Florida homeowners. From pool cages in Cape Coral to hurricane windows in Naples, we've built a solid reputation as a dependable and trustworthy contractor. In addition to pergolas, we also specialize in Florida sunrooms, siding, retractable screen systems, handrailing, carports and patio covers, and more. Contact us today to get started on a pleasant and comfortable pergola on your property.