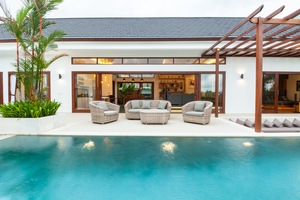 Year-round sunshine and a pleasant climate make your Fort Myers property the ideal space for outdoor fun. From entertaining to simply enjoying time with friends and family, you can turn your home into a comfortable and inviting refuge.
From pool enclosures, patios, landscaping, and more, there are design and accessory choices to match every style and budget. Transform your property into an outdoor oasis with this advice:
Perform a General Spruce Up
One way to see instant improvement is by power-washing exterior surfaces, including driveways, pavers, outdoor furniture, and even the house and roof. Over time, dirt and debris lend a dark and drab appearance.
Light landscaping is also a fast and easy way to get fast results. This includes adding mulch, repairing sod, and trimming trees. Create a welcoming entryway by painting doors and shutters, potted plants, and adding interesting accessories.
Bring the Outside In
Despite the near-perfect weather, there are times in Fort Myers when it's rainy, overcast, or otherwise unpleasant to be outside. You can still get the best of both worlds with a screen room.
Also known as a Florida room, sunroom, and other names, this option allows you to enjoy fresh air and nature's beauty in comfort. In addition, screen rooms create a multi-purpose area on your property, ideal for entertaining, bar and/or deck kitchen, guest accommodation, playroom for kids and grandkids, indoor garden area, home office or gym, and more.
Make this room your own by adding personal touches such as furniture, accent pillows, rugs, curtains, art décor and sculpture, and interesting lighting. Our skilled and experienced team members can help you select the perfect screen room for your specific wants and needs.
Incorporate the Elements
Humans are naturally drawn to fire and water. Adding these elements to your property creates interest and wonder. From fire pits and fireplaces, water fountains and features (garden waterfall), and more, your home will become a relaxing haven and a peaceful area in which to unwind after a long day.
In addition, the Fort Myers climate is tailor-made for diverse and eye-catching flowers and plants. From palms to ferns, flowering shrubs, and even novel items such as bird-of-paradise, adding live plants makes your property an inviting and attractive escape.
Explore All Options
Along with plant placement and light landscaping, there are many other ways to enhance your backyard. Pergolas, pool enclosures, and patio covers add an overall sense of comfort.
For more than six decades, we've helped Florida homeowners get the most out of their homes. From screen rooms to louvered roof systems, carports, storm protection, and many other products and services, our friendly and knowledgeable staff members are always glad to answer questions and offer advice on the best outdoor living solutions for your unique style and preferences.
Browse our vast selection of products, then contact us today to transform your property into the calming retreat of your dreams.