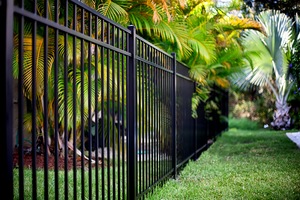 Many people don't give much thought to aluminum throughout the day. We all know that soda cans are made from aluminum, but might not think about the many other innovative and versatile products that can be produced with this high-quality material.
The fact is that several eye-catching and value-boosting property enhancement solutions can be constructed out of/using aluminum. That's partly why use of aluminum in and around homes across Southwest Florida has increased in recent years. Read on to discover some of the other major benefits.
Light Weight
Compared to other materials, aluminum is surprisingly light weight. As you may be aware, overall weight is a top-of-mind consideration for contractors working on a variety of projects. By using aluminum, these professionals know that the material won't add weight and undue stress to supporting structures. In fact, aluminum's strength-to-weight ratio is among the highest of any building material.
In addition, many aluminum structures can withstand the high winds and severe weather that sometimes plagues Southwest Florida. That's one of the main reasons why aluminum is the go-to choice for pool cages in Cape Coral and throughout the region.
Durability
Aluminum's density is about one-third that of steel or copper. However, it's important to realize that the lightweight nature of aluminum doesn't interfere with its ability to provide years of faithful service and reliability. In fact, aluminum structures can weather high humidity levels, temperature fluctuations, and chemical contact. That's one of the many reasons why aluminum is such a great choice for pool enclosures in Naples, Florida.
Along with durability, aluminum requires very little maintenance. So, you'll save both time and money when you choose this material as part of your overall home improvement plans.
Water and Rust Resistant
You might not be aware of the anti-corrosive nature of aluminum. The material can also be further treated to boost this natural tendency. What that means for you is that you'll get home improvement materials that are water and rust resistant. In addition, aluminum doesn't burn. Unlike wood, your aluminum structures can often survive small fires that are quickly extinguished.
Plus, aluminum is impermeable, which simply means that it won't absorb or let out light or aroma. So, unlike some other materials, your aluminum structures won't be irreversibly damaged by the sun's rays, natural odors, and similar.
Versatility
In addition, damaged or unused aluminum can be easily recycled. That's not true for all types of building materials. So, just by choosing a company expert at aluminum structures, you're doing your part to preserve the environment.
That's saying nothing about the sheer versatility of aluminum. Many property enhancement solutions featuring aluminum are designed to make your home stand out. When coupled with other elements (such as impact windows in Fort Myers), it's easy to create a residence that can effortlessly withstand most anything Mother Nature can muster.
For more than six decades, we've helped countless residents across Southwest Florida with a variety of home improvement wants and needs. That includes Florida sunrooms, retractable screen systems, pool enclosures, pergolas and ultra-lattice shade, handrailing, carports and patio covers, and much more. We've also built a solid reputation as the go-to resource for hurricane windows in Naples and throughout the region. Contact us today to move forward with all your property improvement projects, and to learn more about the amazing benefits of incorporating high-quality aluminum on your property.