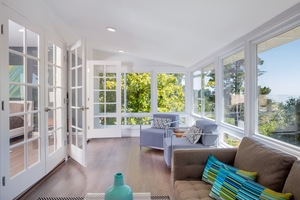 There are numerous choices available to homeowners looking to replace their windows. Aluminum and wood were commonly used in the past, but today, vinyl windows are the go-to, popular option. They are durable, versatile, and more affordable than some other materials.
When you install new windows or replace the existing windows in your home, many factors will go into the decision-making process. Firstly, you'll want to ensure adequate manufacturer's warranty coverage to justify their price. Having windows with a higher life expectancy can increase your property value and save money on future replacements.
If you're considering replacement windows for your home, read on to understand how long vinyl windows can last and what you can expect from them.
What Exactly Are Vinyl Windows?
Vinyl windows have frames made of a type of vinyl plastic called polyvinyl chloride (PVC). These frames are safe, durable, and well-suited for framing windows.
How Long Will Your Replacement Windows Last?
The average life expectancy of vinyl windows is 20 to 40 years. Windows placed in a location exposed to the sun all day long can last over 20 years. On the other hand, well-maintained windows that receive less sun exposure can last up to four decades. Given their longevity, vinyl windows provide significant value and return on your investment.
What Are the Benefits of Long-Lasting Vinyl Windows?
Durability is one of their most significant selling points, but vinyl windows also have many other advantages.
Low Maintenance
When it comes to maintenance and care, vinyl windows are a clear winner. You do not need to paint or stain them. All you need is soap and water to make them look new again.
Versatile
No matter your unique style preferences, a vinyl frame can be perfect for you. There are so many colors to choose from. Not only that, but you can also customize the interiors of the windows to have the appearance of wood-like grains and so much more.
Eco-Friendly
Vinyl windows provide excellent insulation, thus keeping your indoor temperatures more controlled, regardless of extreme weather outside. Your HVAC units will work less to maintain the desired temperature, thus saving you money on your energy bills.
Enhanced Comfort
You do not have to move away from your windows when it is hot or cold outside due to leakage. With vinyl frames, your home temperature will be consistent and comfortable throughout.
Greater Security
Older windows can have faulty locks or weak frames that can be broken into. New, high-quality vinyl windows come with state-of-the-art locking features, providing your home with an extra layer of protection.
Vinyl windows can be a great investment and smart choice for your window replacement. Whether you're installing a new sunroom, replacing the windows, or remodeling to allow extra light into your home, vinyl windows can be the perfect solution. With the help of a reputable window expert, you will be able to find the right vinyl frames personalized to your unique needs and preferences.