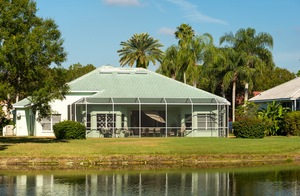 Nothing quite compares to the joy and relaxation of unwinding in the peaceful shade of your Florida sunroom. Sometimes called simply a "Florida room," this is where you can enjoy the best of both worlds: in-house comfort and a real connection with nature.
But the benefits of this structure go far beyond mere aesthetics and leisure. In fact, a high-quality Florida sunroom can actually help boost your property value. Read on to discover some of the other big benefits of including this room addition to your property.
Year-Round Comfort
Here in Southwest Florida, the outdoor climate is ideal almost every day of the year. What better reason to include in your home a space where you can take full advantage of favorable weather? On days where it rains or the wind is blowing, it's easy to retreat to the comfort and protection of your sunroom.
In addition (and similar to pool enclosures in Fort Myers, Florida), sunrooms also expand your living space. So, you can spread out and truly enjoy the unique and tranquil home you've created.
Versatility of Use
To that end, your sunroom can be used for a variety of other purposes. Maybe you're looking for a quiet space for yoga or meditation. This is also the ideal spot for a gym, home office, children's play area, pet exercise space, and even guest accommodations.
In fact, having a sunroom attached to your home is like getting many extra rooms at once. With a little planning and ingenuity, you can easily transform this space into whatever situation that meets your current needs.
Customizable
At the same time, not all Florida sunrooms have to look alike. That means yours can perfectly match your specific needs and requirements.
For instance, perhaps you're looking for a greater connection with nature. Or maybe you want an area where you can set up family games, plan a movie night, or plan other outdoor entertainment options. Just like customizable pool cages in Cape Coral, your sunroom can and should reflect your unique personality and preferences.
Excellent Return on Investment
REALTORs® agree that any positive upgrade to a home will only boost property value. Prospective buyers are attracted to options where they can maximize living space for them and their loved ones. Even if you don't plan to sell anytime soon, your friends and family will benefit from an outstanding Florida sunroom on site. Best of all, this room addition can easily be coupled with other property enhancement solutions in and around your home.
In fact, for more than 60 years, we've assisted countless homeowners just like you with a variety of innovative ideas. That includes everything from replacement windows in Port Charlotte, to pool enclosures, awnings and shutters, storm protection and security, and much more. Contact us today to learn more about how you can improve your property with a high-quality Florida sunroom.