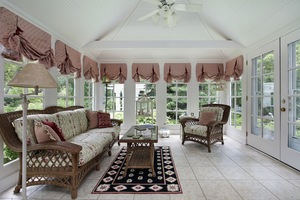 No holiday celebration is complete without a host of family and friends sharing your space with you in commemoration of this time of year. There's no better place to share in the festivities than your very own sunroom! It's the perfect space to host drinks, dinner, or simply watching your favorite holiday film. Ft. Myers sunrooms are a great spot to get the party started, which is why we've put together these tips on how to start the holiday celebrations in your sunroom!
Gift Wrapping Station
The holidays are practically synonymous with copious amounts of gifts. After all, gifts are our way of showing our loved ones how much we care about them! Trying to find the space to wrap this year's harvest of presents can sometimes be overwhelming in a home that is already crowded. With a sunroom, you can have all the space and privacy you need to wrap up all your gifts!
Bask in Sunlight
Sometimes, it can be hard to enjoy holiday cheer when suffering from seasonal affective disorder or seasonal depression. These conditions are typically brought about when spending more time indoors without adequate exposure to sunshine. It's getting colder outside, and the sun goes down sooner in the day, but sunrooms can stop those conditions in their tracks. Take in the views of the great outdoors while soaking up valuable sunlight with your very own sunroom.
Perfect for Any Weather
We're used to mild temperatures here in Florida at all months of the year, if not outright hot. However, even our subtropical home can be unpredictable for the holidays. Sunny, bright afternoons can give way to bitterly cold nights. Fortunately, sunrooms allow homeowners to experience the best of both worlds! No matter how hot or cold it is outside, you can enjoy your temperature of choice inside your sunroom while still taking in all your favorite sights.
Holiday Hosting
Whether inviting a few friends over for brunch, or offering a full table spread for whichever holiday you celebrate, sunrooms can accommodate your needs. All you need to provide is a table and chairs and, with a little decorating, your sunroom can become the spot to be for all your friends and family. Guests will be thrilled to join you in the sunroom for festivities that no one will soon forget!
What makes sunrooms such an incredible addition to any home? They can be enjoyed year-round, but their greatest potential may be unlocked by the holidays. If you don't already have a sunroom in your home, give White Aluminum a call! We will deliver a sunroom that fits your home so you can start enjoying their many benefits.