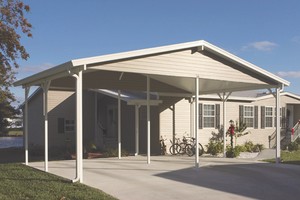 Many residents of Fort Myers and the surrounding area couldn't envision life without reliable transportation. However, more than merely getting "from A to B," our vehicles reflect our unique personalities and style. Since most folks keep their cars, trucks, motorcycles and other vehicles for several years, it's paramount to have reliable means by which to protect these major investments.
Still, not everyone has the luxury or ability for an on-site garage. Rather than allowing your vehicle to bake in the hot sun (and become susceptible to any number of outside threats), investing in a high-quality aluminum carport is a solid idea. In this article, you'll learn how these essential structures help keep your precious belongings safe.
Keeps Vehicles Safe and Secure
The Fort Myers sun provides us with year-round light, warmth, and general comfort. Still, vehicles constantly subject to the sun's rays will quickly fade, both inside and out. However, when you park under a carport, you help protect your vehicle from untimely wear and tear.
In addition, crime researchers assert that vehicles are less likely to be stolen when safely secured under a carport. When you show pride and caring for your property, criminals will think twice about trying to pull a fast one. Also, the open nature of carports makes ne'er-do-wells nervous, since they know there's a heightened chance their nefarious activity will be noticed.
Beyond heat and theft, aluminum carports protect your vehicle from dirt, debris, animal droppings, and more. In addition, kids and neighborhood pets will be discouraged from hanging around (or lounging on) your vehicle when it's parked under this structure.
Protects More Than Vehicles
Beyond vehicle protection, many homeowners choose to store needed items under their carports. This allows such material to be kept out of the rain and elements.
In addition, carports can be used for a variety of other purposes, such as sheltered entertaining, easily-identifiable parameters for child's play, pet exercise, and more.
Adds Value to Your Property
REALTORs® agree that well-maintained carports are often a selling point for their clients. Even if you're not in the market to sell, a high-quality aluminum carport will surely contribute to the overall value of your property.
That's partly because of the versatility for which carports allow. For instance, classic colors such as dazzling white blend well into the exterior décor and color pattern of any residence. In addition, the water and rust-proof nature of high-quality aluminum creates added protection for your vehicle or boat.
Easy to Install and Maintain
As mentioned, not everyone has space or ability to build a garage. Choosing this route can also quickly become costly and time-consuming. By contrast, installation of a high-quality aluminum carport is measured in days, not months. That means you can begin using your carport almost immediately. In addition, carports satisfy most every budget, and can even be customized to match your unique desires and requirements.
Plus, maintenance is virtually non-existent. Both water and rust-proof, aluminum won't crack, rot, or become subject to insect infestation. In fact, homeowners who keep the structure clean and free from major damage have reported years-long carport enjoyment even in the harshest outdoor conditions.
With decades of experience, we've crafted innovative property enhancement solutions for people across Central Florida. A trusted resource for building solid carports, we also specialize in storm windows, awnings and shutters, Florida room additions, roof overs, and more. In addition, we're known for creating dazzling pool enclosures in Fort Myers, Florida and the surrounding region.
Contact us today to learn more about how an aluminum carport can improve your property and your quality of life.