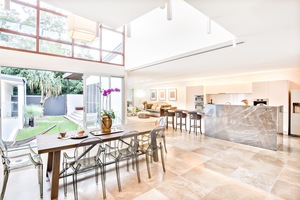 Florida is perfect for enjoying nature every day. The temperate climate, breathtaking sunsets, and striking plants and wildlife naturally draw our interest to the out-of-doors.
When enjoying your Fort Myers property to the fullest is a priority, considering all options available to meet that goal is a wise first step. Still, with a multitude of choices, it can be difficult to get to the bottom line of what makes each feature unique and useful.
Use this advice to determine whether a patio cover or sunroom works best for your personal style and preferences:
1) Know the Options
Many people think of sunrooms as a perfect getaway from heat, bugs, and other unpleasant elements. While that's true, there are many other perks to this feature. An enclosed sunroom is the ideal space for entertaining. It also creates a multi-purpose room you can use as a home office or gym, playroom, guest accommodation, and more.
Covered patios are also great for entertaining. Many people prefer a patio for the proximity to nature they provide. When the hot Fort Myers sun beats down, patio covers provide just the right amount of shade, while still offering the full enjoyment of the great outdoors.
Our friendly and knowledgeable staff are always glad to answer your questions and offer advice on which option is best suited to your specific wants and needs.
2) Gather All Details
Before starting any home improvement project, it's wise to perform adequate research. This includes understanding local permitting rules and determining the cost to resale value comparisons.
You should also consider the building materials you'll use to have your patio cover or screen room constructed and installed. A strong and durable material, aluminum is a great choice for the sometimes-harsh Florida elements. It's rust and water-resistant and lends a smooth, crisp, and elegant look to any home.
Our skilled and experienced team members are familiar with current Florida building codes and can help you select the perfect enhancement solutions for your property.
3) Consider Seasonal Use
Though subtle, Florida does have seasons. At times, the Fort Myers area has had downright chilly conditions. Forecasters predict this trend will continue in the coming years. Knowing the personal preferences of friends and family members will help you make a sound decision.
While patio covers create a welcoming and inviting atmosphere in the warmer months, some people find them uncomfortable when the temperature drops. By contrast, an enclosed screen room — coupled with climate control elements such as fans and space heaters — offers year-round enjoyment regardless of what's happening outside.
4) Get Started
When it comes to property enhancement, it's tough to go wrong. Any addition will add to the comfort and enjoyment of your guests and loved ones. Most projects also improve your home's overall value.
We're proud to have helped countless Florida homeowners find innovative and exciting solutions that match their unique style preferences. From patio covers and screen rooms to pergolas, pool enclosures, siding, retractable screen systems, and more, we have options to fit every budget and desire.
Contact us today to discover how you can transform your property into a relaxing paradise.