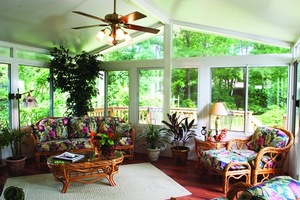 Once you have a Naples sunroom of your own, you have a true blank canvas - endless options for family fun, hobbies, entertaining, dining and whatever else you can imagine! Take a look below to see some of our favorite, fun and unexpected ways to use your own sunroom.
Coffee house at home
Nothing quite compares to the relaxing atmosphere of your favorite coffee shop - but who says you need to leave home to enjoy it? Comfy, cushioned seating and jazzy or acoustic music on Bluetooth speaker are great ways to get started. Set up a coffee table with books and magazines, and add a coffee station with fresh coffee, your favorite mix-ins and colorful mugs. You're well on your way to hosting the best, hidden-gem coffee "shop" in Fort Myers!
Lush garden oasis
A sunroom lets you enjoy everything you love about the outdoors, minus the stuff you don't (like heat, humidity and pesky insects). If you love greenery, consider filling your space with beautiful broad-leafed plants, succulents and other plants that are sure to help you relax and recharge with every visit to the sunroom "green house."
Coastal beach shack
Living in Fort Myers, family fun at the beach is a time-honored tradition - an essential part of our splashing lifestyle! You can help reflect your love for the ocean with beautiful blue accents and beachy, laidback furniture. This can even be the perfect place to store your beach day essentials like surfboards, kayaks and snorkel gear.
Modern library
Who says libraries have to be dark and stuffy? We think your sunroom is the perfect place to design a new kind of Sunshine State library - with bookshelves, filled to the brim, lining the spacious picture windows surrounding your sunroom, plus ample comfy places to kick back and relax.
Artist's studio
Embrace your inner artist and harness the power of sunlight in your next painting or other artwork! Your sunroom is the perfect place to be inspired by nature, escape from the hustle and bustle of home and get your creative juices flowing.
Kitchen add-on
For those who love to cook or bake, your sunroom can be an unexpected extension of your kitchen prep space! You can use your sunroom as a well-lit place to grow an herb garden, chop ingredients and so much more.
Whatever your sunroom style may be, we're here to help you bring your vision to life! Call White Aluminum Fort Myers today to get started on this exciting project.