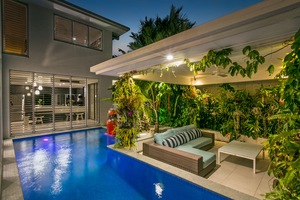 They say "home is where the heart is." If you're like many Fort Myers homeowners, you've invested a lot of funds, time, and energy in making your property a welcoming and relaxing haven. Given that, why would you want to leave it behind to fight the vacation crowds in some distant locale?
As 'staycations' continue to grow in popularity, more Florida residents are seeing the benefits of unwinding right in their own backyards. Thankfully, creating a personalized and comfortable refuge is easy and affordable. Here's how to get started:
Craft an Inviting Gathering Space
After a long day, there's nothing quite like decompressing in the pleasant Southwest Florida climate. In an era of technology and constant connection to mobile devices, it's nice to know that it's still possible to spend quality time offline with friends and loved ones.
When you outfit your patio or screen room with cozy furniture and eye-catching décor, family members will be naturally drawn to the scene. This is especially true when you have a day off from work obligations. Relaxing under the Fort Myers stars is the perfect way to recharge and restore your energy.
For added interest, incorporate a focal point that can tie the entire space together. That could be a fountain, sculpture/artwork, or even a fire pit. Serving tasty snacks and drinks will round out the peaceful motif.
Set the mood by incorporating accent lighting. This could be strategically-strung holiday lights, candles, hanging lamps, and other options. In the winter months, a standing outdoor heater adds both warmth and ambiance.
Set Up Outdoor Entertainment
Who doesn't love the fun and challenge of an exciting family activity? With a little creativity, it's easy to set up life-sized checkers or chess in your backyard. Or, you could opt for classic games such as horseshoes, corn hole, and more. Another Southwest Florida favorite is lawn games such as bocce ball and similar. The main idea is to get people together and having fun.
To that end, hosting a wine tasting at your pergola or a party under your pool enclosure is an excellent way to both get to know your neighbors and strengthen the bonds of friendship between contacts with whom you've enjoyed good times for years.
Commune with Nature
While catching up with old friends is pleasant and rewarding, other times you just want to be alone with your thoughts. Luckily, you don't have to travel anywhere to experience wildlife in its natural habitat. Instead, you can bring nature to where you are.
For example, add a birdhouse to an exterior wall (or hang a feeder from a backyard tree) to witness these creatures up close. Bird baths are always a welcome treat, especially in the hot summer months.
Otherwise, you can simply soak up the Fort Myers sun and take a deep and cleansing breath of fresh air. Cap off the experience by dining outside. You'll be treated with a striking sunset and all the captivating changes as day turns to night.
Find Your Happy Spot
Unlike vacations or even weekend getaways, the fun times never have to end when your backyard becomes a private refuge. But why stop there? The fact is there are many simple and cost-effective property enhancement solutions that add comfort, interest, and value to your home. That includes room additions, creative landscaping, improving curb appeal, and anything that makes you feel safe and secure in your own home.
For more than 60 years, we've assisted people throughout Southwest Florida with all their home improvement needs. From replacement windows in Fort Myers, to hurricane windows in Naples, pool enclosures, pergolas, carports, storm security and protection, and much more, we can help transform your property into a space of which you'll beam with pride. Contact us today to get started.