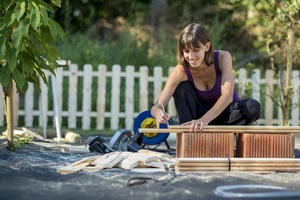 Is it really summer if you can't fully enjoy your backyard? What better way to celebrate the season than by sprucing up your Fort Myers tropical oasis.
You already know you live in a beautiful area, so why not live beautifully 24/7? In today's blog, we are providing you with 10 tips that will transform your backyard in no time, and the best part is- the whole family can get involved!
Update your furniture
It's not always easy finding inexpensive furniture that's high quality, however, the furniture is what makes family and guests feel comfortable, so it's a smart investment and doesn't always break the bank.
By purchasing a few earth-toned staple pieces, your furniture will mesh with your backyard and leave your guests feeling relaxed. A helpful hint when shopping around is, go for wood- living in Fort Myers, you don't want your furniture to rust from rain showers or ocean spray.
Pick a new paint color
Simply repainting your patio or porch will always go the extra mile. Paint is usually inexpensive and you can choose from a large variety of colors- go bright and bold, or keep it simple and minimalistic.
Set up stepping stone walkways
Walkways add dynamic dimensions to your backyard and usually allude to an enlarged space. You can go the fancy route by installing marble tiles or keep it casual with cement stones. Either way, always have your path lead to peace.
Light up your yard
This step is not one to skip, a well-lit backyard is breathtaking and efficient. Why renovate your backyard to have no one see it at night?
Solar lights are the way to go- the only price you pay is for the actual light. With the hot sun beating down on them all day, you now get good lighting all night.
Incorporate landscaping
Nothing spruces up a backyard like some herbal friends. Strategically place your shrubs, small trees, and plants around the perimeter of your fence, pool, and walkway. Having ample amounts of greenery livens your entire environment- making your house feel more like a home.
Add impromptu shade
It can become tiresome being out in the heat all day, but that never gives us Floridians a reason to call it quits. Wouldn't it be nice if you could control when and how you wanted to enjoy the outdoors- well now you can!
By adding a trendy, stylish Louvered Roof System over your seating area or patio, you are creating an outdoor space you control. This system is solar powered and motorized so you save energy and outdoor time- it's perfect rain or shine.
Install fencing
The reason why your backyard needs a fence is for privacy and safety. That way, your kids and four-legged friends can roam freely without the worry of running into the road- or away.
Create barriers with galvanized tubs and tall grass
When the kids are grown and the pets are trained you don't always need pool fencing. These galvanized tubs filled with tall grass add a modern feel to your backyard oasis, and they also provide a barrier to get around, which prevents and hinders safety hazards.
Build or buy a firepit
Firepits are a fantastic way to heat up the night or dry off from a day in the pool. You can choose from a wide array of options at any home good store or build your own out of pavers! Either way, this intimate feature will take your relaxation, or fun to a whole new level.
Cementing stone to the foundation of your home
This final, detailed step takes your home from contemporary to perfectly altered. Unfinished foundation can become an eyesore. Pick up any color or patterned stone from a hardware store and cement them to the bottom of your home, to give the front, and backyard a picturesque feel.
At White Aluminum & Windows Fort Myers, we hope these tips will get you going on your new backyard adventures. Of course, if you need any help or further ideas we hope you choose your industry leading experts for assistance. Please call us today for a free quote on our Louvered Roof System or another product you have in mind that will complete your project.