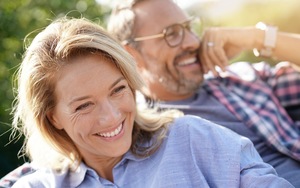 Who says you need to travel far to enjoy the lux resort experience? Leave the suitcase and passport at home and simply step into your backyard! With a few simple additions, your space will be well on its way to a resort-style oasis. Just read on to see a few of our favorite ideas.
Add a zen pergola escape
When you think "resort," you think pure relaxation—and one of the most tranquil features you can add to your backyard is a pergola! It provides a designated space in which you can place a moving-water feature, relaxing chair or even airy curtains for a breezy atmosphere. Plus, the pergola's posts and shades above provide the perfect place to grow all sorts of vines, so you can surround yourself in lush greenery and just unwind for the day.
Splash around in a stress-free space
There's just something special about a luxury resort pool. Maybe it's the serene surroundings or fresh towels all around—or, more likely, the fact that you don't have to maintain it!
While you can't skip maintenance on your own backyard pool, you can certainly do less of it by adding a pool enclosure to your space. It will virtually eliminate the problem of having to skim your pool's surface before jumping in, because the enclosure's fine mesh fiberglass screening keeps out bugs, leaves, twigs and other litter you want out of your pool. So kick back, relax, and pull up a float. It's what a day in the pool is all about! (Tip: dress up your pool with an in-water umbrella or swim-up bar for an even more resort-like experience.)
Relax under a louvered roof
A louvered roof adds an air of sophistication to your outdoor space, keeping you cool with shade or letting the sun shine through via our Equinox® Louvered Roof system which lets you customize your outdoor experience through motorized controls. Open or closed, our aluminum louvers (in your choice of picturesque natural colors) are sure to remind you of the veranda on your favorite resort getaway.
Unwind with an awning
A popular choice for many restaurants, stores and, of course, even hotel entrances, an awning can add flair and shade to your outdoor space. Keep cool as you enjoy a bite with friends or simply soak in the view.
Enjoy lux flexibility with a retractable screen system
Many al fresco restaurants and resort-style destinations make use of an open dining concept by day; and by night, retractable screens can be drawn to turn the dining space into a cozy, more personal setting. Why not enjoy the same flexibility in your own backyard? A retractable screen system lets you do exactly that, crafting the luxurious environment you want with the touch of a button.
We hope that these ideas help you achieve a luxurious resort-style escape right in your backyard! To learn more about features like retractable screen systems and pergolas, Fort Myers homeowners can call White Aluminum & Windows Fort Myers today! With six decades of experience and a passion for home improvement, we can help you with a wide variety of projects that will truly transform your space.