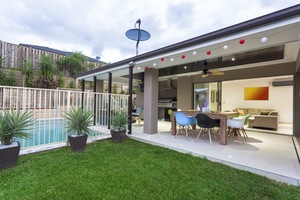 I think it's safe to say, all Floridians can agree that the most annoying part about being outdoors is: mosquitos. Say goodbye to sitting outside after it rains, or when the sun starts to set.
Today's blog is sharing some ways you can beat the pests and stay outside all summer long with retractable screens.
Protect you from pests
No one should have to sacrifice sitting outside in the comfort of their own backyard just because of insects- mainly mosquitos. It's now time you kick those suckers to the side and enjoy what was once your backyard oasis.
Retractable screens are solutions for insect control and are compatible for patios, lanais, gazebos, picture windows, outside eating areas, garages, car ports, doorways and entry ways. So now, wherever your favorite outdoor place to rest and relax is- can be protected from pests.
Provide solar shading
It's always nice to be able to hide from the sun every now and again. When using a retractable screen system you can do this with a touch of a button!
The motorized screens allow you to provide shade for your family and guests whenever they need it most. This way, you can still enjoy being outside without having to seek a shade safe haven inside. You've put time and work into making your backyard perfect, so it's important to enjoy it as often as you can.
Preserve the aesthetics of your backyard
Your motorized screen rolls down to cover your openings when you want it there and then retracts out of sight when you don't. Can it get any better than that? At White Aluminum Fort Meyers, we think not.
Now you can entertain through all hours of the day and night knowing your backyard still looks luxurious and modern but is also efficient. With the power of a remote, you can make guests feel comfortable and protected.
Add extra privacy and protection
One of the greater benefits of having a retractable screen system is having a little more privacy. Although the screens are partially transparent they still act as a privacy agent. These screens are far different than pool enclosure screens so they add more value and coverage.
When it comes time for storm season, you now have an extra protected space for outdoor belongings. Not only will your furniture last longer, but now you can enjoy reading a book or getting some work done during a light shower.
White Aluminum Fort Myers is always thinking of ways to make your home or business that much better. Give us a call anytime you need some advice on a project or are ready for an in-home consultation.