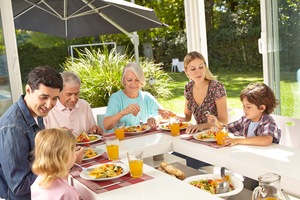 Whether you call it a lanai, screen room, Florida room, covered porch, or any other name, there's no denying that this space adds elegance and meaning to any property. Attached to your home and surrounded by three "walls" made of mesh fiberglass screen, this setup keeps out bugs, dirt/debris, and unwanted pets while still allowing in the fresh air and pleasant atmosphere of Sunshine State nature.
Here, you can soak up the Florida sunshine and experience the full atmosphere of your backyard no matter what's happening outside. That means even in times of heat/humidity, rain, and other weather scenarios, you'll be dry and comfortable sitting in your sunroom.
And that's just the tip of the iceberg of benefits to this property enhancement solution. Read on to learn why more Southwest Florida residents have embraced the beauty and function of this exciting feature.
1) Comfort and Leisure
Imagine a dedicated space where you can relax with your coffee and morning newspaper (or browsing the latest news on your smartphone or tablet). This is also where you can enjoy pleasant conversation with friends and family, take some much-deserved quiet time in the day, or unwind after long hours at work or school by gazing at stars in the night sky.
Your sunroom is also an ideal spot to entertain guests and loved ones. From family dinners to special events, this space is tailor-made for optimal comfort and enjoyment. That's what makes it one of the most popular and affordable room additions available.
2) Multi-Purpose Options
In fact, it's a safe bet that no other room in your home offers quite the versatility of this space. Your sunroom can easily be used for a variety of purposes, including:
home office
home gym/meditation area
kids' playroom
guest accommodations
game/hobby room
home theater
indoor garden
pet play/exercise area
and more
3) Improved Security
This space also enhances privacy. Similar to pool cages in Cape Coral, the screen of your sunroom naturally filters out both light and visibility. That means you'll be safe from the prying eyes of neighbors and passersby. In addition, when you include drapes or blinds, you create a personal haven removed from the outside world.
Then there are the improved security features. Unlike an open patio, criminals and solicitors will think twice before approaching you when they see the privacy you've created in your sunroom.
You'll also be protected from the sometimes-harsh Southwest Florida elements. As mentioned, high-quality mesh fiberglass screening keeps pests, dirt/debris, and harmful allergens from entering your property.
4) Enhanced Property Value and Better Quality of Life
REALTORs® agree that prospective homebuyers take a second look at homes with screen rooms over those that don't have this feature. Even if you don't plan to sell, neighbors and guests will be impressed by the pride of ownership you display in keeping your property looking great.
Plus, similar to eye-catching Naples windows and doors, your Florida sunroom comes with built-in qualities that will make you and your loved ones happy and content all year round. Best of all, this room addition can easily be coupled with other property enhancement solutions to make your residence really stand out.
In fact, for more than 60 years, we've helped homeowners across Southwest Florida with a variety of home improvement needs. That includes roof overs, pool enclosures, pergolas and ultra-lattice shade, awnings and shutters, carports and patio covers, and more. We're proud to be the trusted resource for PGT windows in Fort Myers. Contact us today to learn how simple and straight-forward it is to install a high-quality aluminum sunroom on your property.