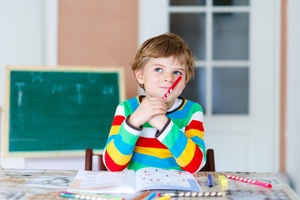 For kids all across Fort Myers, it's finally time to settle down into the school routine. Why not make everyday homework, reading, and projects a little easier by turning your sunroom into a study room?
You've already got the space—now a few easy touches can help make it a cozy, inspiring place to breeze through assignments (one that's just as well-suited to weekend fun, too!).
Take a look below to see how to do it.
Include lots of table space
To ensure that your sunroom can handle it all (from everyday assignments to big poster board creations to study break snacks), opt for an oversized table or desk. This will lend a multipurpose feel to your room, which is perfect for students whose study needs and habits may change with time.
Frame an inspiring view
Once you've picked out the perfect desk or table, center it against an inspiring view so that your child can feel inspired and at ease as they work. A big, lush tree or a small pond out back are a few examples of such a view!
Keep it cool...
One of the best parts of a sunroom study space is that you feel like you're outside—but can still control the temperature within. Use your ceiling fans as necessary to get a breeze going on warmer days, making the study space much more livable.
… and colorful
Younger kids will love having some colorful flourishes here and there. Consider mirroring the colors from your backyard or waterfront view in bright accents (like blue pillows, or a comfy yellow throw for cooler afternoons).
Add comfy seating
Some comfy but structured seating (think couches or even pouf-style ottomans) can help make studying a little more comfortable. This is home, after all, so it should be a relaxing space!
Provide easy school supply storage
The homework itself might be tough—but sitting down to do it should be as easy as 1, 2, 3. Help simplify the study process by keeping everything your child will need nearby. Having a shelf or even a handy storage ottoman filled with loose leaf paper, pencils, and additional supplies can ensure that they don't need to go running around searching for extra tools. Everything is right there!
With small tweaks like these, you won't need to drive to the library to enjoy an environment that lends itself to learning. Be sure to call White Aluminum & Windows Fort Myers to learn more about our sunrooms and other home additions today!