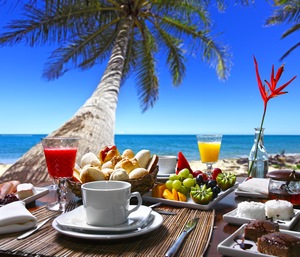 Living the life of freedom and fun comes naturally to Fort Myers' residents. And the best part is when the sun goes down the fun doesn't stop!
Look into today's blog to find just some of the best places to wine and dine in Fort Myers.
Mad Hatter
This beachside hot-spot has been an island favorite for over three decades. It's no surprise why, the dozen or so tables it seats each have a spectacular view of the sun setting over the Gulf of Mexico.
The cozy ambiance and ever-changing menu are exactly why people flock to this location time and again- but if you plan on being late, look to wait for a table. This is where you come for unique, fine dining whenever you're in the mood to celebrate, or just treat yourself!
Angelina's Ristorante
Far from a grab and go beach cuisine, Angelina's screams elegance from the moment you arrive. As you can guess by the name, this Italian restaurant pleases anyone who walks in the door from their award-winning ravioli to veal chops and black truffle parmesan risotto.
Bring the whole family- especially your wine lovers. Angelina's has over 4,000 selections all encapsulated in a thirty-foot wine tower. Although this is a fancy feasting spot, if you've come in beach attire, don't worry, you are still welcome to enjoy the bar and patio.
Flipper's on the Bay
Don't be fooled by this restaurant on stilts. Part of Lovers Key Resort, Flipper's will be your new secret spot. It's hidden between Fort Myers and Bonita Springs. The food is alfresco and the panoramic views are unforgettable. They serve breakfast, lunch, and dinner, and each spread is unique and will have you returning for more.
Mistro Bar & Grill
This place is a foodie-frenzy. The food is so good, it almost seems the location is purposefully hard to find. This white linen tablecloth restaurant is tucked away in a strip-mall like a place and is known for its non-traditional Italian cuisine.
Enjoy Seafood Napolean, diver scallops, blue crab stuffed shrimp, Thai sauces, and rich risotto cakes- seems hardly Italian, right? Jump into this hole-in-the-wall and let your taste buds meet their new friends.
Sweet Melissa's Café
Forget food chains, heavy and greasy foods, and join Melissa's seasonal menu. This is the best spot for island lovers to come and enjoy small plates consisting of only locally sourced ingredients. Although the food is most spectacular, so is the atmosphere! Catch them on a cool night and find live music, friendly guests, and a place to socialize with fellow Fort Myers' residents.
Your Fort Myers Home
Everyone loves to go out on the town and try new places, but what sticks the most aside from the food, are the memories. If you've seen it all, or don't feel like fighting crowds, then enjoy a feast at your Fort Myers home!
Have some friends over, the whole family, or just a night to yourself. Set your sunroom dining table, eat in your backyard, or keep it cool on the couch- there are endless ways to enjoy the place you live in.
At White Aluminum, we always want to help you turn your house into a home. If you feel it could use a little love or revamping, you know you can always call your home improvement experts!