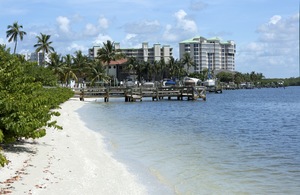 If you own a beautiful home in Fort Myers, you may be wondering how to best protect it during hurricane season. Fortunately, we can help! Read on as we share a few smart solutions.
Check your property's water management
With hurricanes come heavy rains—and while there is no way to prevent major flooding, there are many ways to help your property drain water better. For example, consult with a landscaping professional to see if you have uneven terrain. If so, this may cause water to accumulate unevenly in one area, and correcting it will help prevent pooling (and the unwanted impact of standing water).
Another helpful area to check is your home's gutter system. If your gutter is in disrepair, or is clogged, it may not be able to move water away from your home as needed. If you need a new gutter in Fort Myers, you can call White Aluminum & Windows Fort Myers and we'd be happy to help with this simple yet powerful switch.
Protect your windows and doors
Before a storm, it is important to secure your windows and doors, including garage doors. Consider options such as impact windows, whose sturdy glass is able to withstand flying debris and high winds, storm panels or accordion shutters for effortless installation. Don't forget about the biggest door in the house, the garage door. You can prevent yours from bending in on itself with the help of a garage door brace from White Aluminum & Windows Fort Myers.
Remove outdoor furniture and other loose items
Many Fort Myers homeowners use their outdoor spaces as an extension of their home. If your backyard has patio furniture, it is best to store it indoors (in your garage, for example) during the storm so that it isn't picked up and turned into debris. The same goes for lawn tools, toys, bikes and anything else you may have outdoors.
Safeguard your documents and other important items
Because Fort Myers is a coastal area, it can sometimes be prone to flooding during hurricanes. You can help protect important documents by storing them in a watertight container and leaving them in a high part of your home (either on a second story or somewhere removed from the ground), or bringing them with you if you leave the area.
Follow local officials' advisories
When should you leave the area? It depends on a wide variety of factors, but it is always best to listen to the local news and heed the advisories of local officials who may order an evacuation for your area. Rest assured, by taking the proper precautions, you can trust that your home is as protected as possible while you are away!
We hope that these tips help you achieve storm protection and, of course, peace of mind this hurricane season. With more than 60 years of experience, White Aluminum & Windows Fort Myers is here to help prepare your home for the storm and improve upon it all year long, with everything from high-impact windows to new gutters, carports and more. Contact us today and see how we can help you.