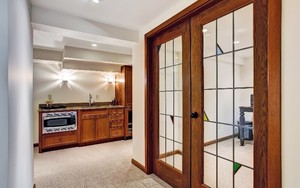 Doors do a lot. More than simply getting you from one room to another, they tell the story of your home and invite you to keep on exploring your space.
Do your home's doors tell the right story? If not, maybe it's time for an upgrade! In today's blog, we will be exploring some of the dos and don'ts to consider as you pick out new doors for your home. Take a look.
Do: Consider your unique space needs
Every space has its own unique characteristics in terms of layout, square footage, and style. Be sure to consider the specifics of your own space as you think about what kind of doors you'll want to install. For example, bedrooms that overlook the pool often benefit beautifully by a pair of French doors. Similarly, spots that see a lot of traffic (like your back patio door) might benefit from an option that's easy to quickly open and close, such as a sliding glass door for example.
Don't: Ignore all the possibilities
On the same note, don't forget to think outside the box once in a while. There might be options you haven't considered that would add to the style and flair of your home! Putting French doors between two rooms of your home, for example, is a stylish option that you might overlook the first time around.
Do: Dress up your new doors
The first step, of course, is choosing and installing your new doors. But you can also start thinking about the design choices you might like to try. Don't be afraid to add a pop of color by painting the trim of your new doors, or dress them up with richly-textured curtains that add a sense of drama to your space.
Don't: Forget to let in the light
No matter what stylistic option you choose, be sure to remember the real star of the show: the light that your doors let in! Spots like your kitchen or home office are especially great places to let in lots of bright sunshine.
We hope that today's blog helps you pick outdoor solutions that work for you! For help with these additions, and any additional home improvement needs you may have, be sure to call White Aluminum & Windows Fort Myers today. We've got you covered!