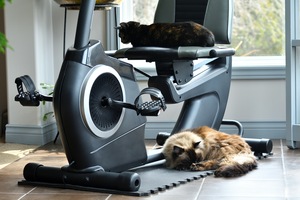 If you are working out from home more than the gym these days, you're not alone! Fortunately, a gorgeous Naples sunroom might be the perfect place to enjoy your workout to the fullest - plus, so many more benefits. Just read on to learn more about why we love this surprising fitness solution.
Whatever-the-weather workout
You may love to run long distances outdoors, but this isn't always feasible for every athlete - especially if you move to a neighborhood with less-than-ideal trail access, or your efforts are thwarted by rain or high heat. With a sunroom, you can enjoy all the visual benefits of working out surrounded by nature with a treadmill, elliptical or stationary bike.
A spot for peaceful movement
In addition to traditional gym workouts, like running on the treadmill or lifting weights, your sunroom is also the perfect calming space for restorative, peaceful movement like yoga, tai chi and so much more. Surrounded by gorgeous views of the lush, sunny world outside, you will be able to connect with nature in an all-new, meaningful way.
Flexible options for your life
Open your sunroom windows and enjoy Florida's fresh air to the fullest, or keep them closed on rainy days (or hot, humid afternoons when you want to enjoy a cooler workout)! A sunroom is built to breathe and adapt to your everyday needs.
More than a fitness studio
Because our beautiful sunrooms are so versatile, you don't need to see them as "just" a fitness studio or workout space. Just as our fitness routines and preferred activities change over time, so too can your one-of-a-kind sunroom! Watch it evolve from a cardio circuit to yoga room to green house, craft room, child's playroom - wherever life takes you, your sunroom will be there as a dynamic, essential part of your home.
Whether you're searching for a WOFH (work-out-from-home) solution, or simply want to add to your house a flexible multipurpose space, White Aluminum Fort Myers has you covered! Call us today to get started on this exciting project and so many more.