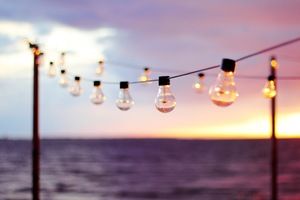 Gulf Coast living is all about appreciating our beautiful natural surroundings - including the stunning sunsets we are treated to every evening! Even if you don't catch the sunset in person, you can still embrace its colorful swirls and soothing atmosphere in your very own home. Just read on for a few of our top ideas.
Capture the sunset in a new way
Have you ever noticed how the lighting in a room can completely change with each different phase of the day, especially sunset? Glass accents such as vases or globe lights can help your home capture the vibrant colors of sunset in an all-new way.
Frame its swirling colors with new impact windows
Fort Myers sunsets are so beautiful that they deserve to be seen in all their glory! Old, salt-stained windows are not up to the task - so consider swapping yours out with new replacement windows from White Aluminum! Not only do they provide peace of mind in the form of hurricane protection, but they will also allow you to see sunsets in stunning new clarity you're sure to appreciate.
(Tip: The sun may have a powerful impact on our mood throughout the day - but it does not have to have an impact on your furniture, flooring or drapes! Our energy-efficient windows are double-glazed to let in the sunshine without the harmful UV rays that can fade your materials over time.)
Opt for a sunset-inspired color palette
When it comes time to decorate (or redecorate) your space, we can't recommend a sunset-inspired color palette enough! Dreamy purple paired with burnt orange and other classic hues are relaxing and reminiscent of beautiful beach sunset views. Consider a splash of color on an accent wall, or simply let your furniture do the talking with relaxing hues that will pop against a neutral backdrop.
Remember texture, too
Sunset isn't just about the visual phenomenon at hand, of course. It's also about the way it makes us feel - relaxed and inspired! Opt for textures that do the same, such as exquisite velvet or a dreamy, luxurious rug or throw.
Snap your own ocean photography
For a fun family project, take everyone out to the beach and have them each capture their own version of the perfect sunset snap! Then, come home and frame them in a collection on your wall. It's a great way to imbue your space with charming color while still paying homage to what makes each member of your family so unique in their vision.
We find so much inspiration in sunsets, and hope that these ideas help you do the same! Contact us today to get started with projects like a brand-new Naples sunroom, PGT windows for hurricane protection and much more. We're here and happy to help.