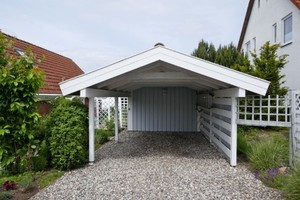 High temperatures, rainy days, and severe storms all take a toll on vehicles – and all three of these things are prevalent year-round in Ft. Myers. Besides turning car interiors into saunas, the sun can also cause engine problems, faded paint, and damaged upholstery. Enter aluminum carports – the perfect solution to keep vehicles safe no matter the weather! These simple structures yield extraordinary benefits, simply read on to learn more.
Protection from the Elements
Carports act as an umbrella that is constantly held over your vehicle, protecting it from weather damages such as paint fading, weathering, and even hail damage. This way, your car can enjoy year-round protection from the harsh Florida sunlight, which is one of the best ways to prevent sun-related damages.
Added Range of Uses
Carports don't just keep vehicles in the shade – they can do the same for us, as well! If you need extra space for your next summer barbecue or just want a little place in the shade to relax, look no further than your new aluminum carport. Think of carports as an extension of your outdoor space, perfect for any additional storage you may need or room for guests.
Prevent Crime
When kept underneath a carport, your vehicle will always be visible to passersby, neighbors, and you. This in and of itself reduces the threat of crime being committed to your car, such as theft and vandalism. Unlike vehicles that get left in garages, you can always keep an eye on yours and make sure that there is no foul play underneath the safety of your carport.
Suits Many Vehicles
Obviously, carports are great at keeping cars safe. However, they are also just as effective at protecting other vehicles, too! This includes boats, RVs, and motorcycles, to name a few. Carports do not discriminate against any type of vehicle or trailer, simply park it under your carport for guaranteed protection.
Accessible and Easy to Use
The simplicity of aluminum carports is a significant part of their beauty. With no doors or other operable parts, it is as simple as parking your vehicle and forgetting it. This proves especially handy after a cumbersome trip to the grocery store. The only door you'll need to open once you get home is your front door!
Whether or not your car is showing signs of sun damage, it's never too late to install an aluminum carport for your Ft. Myers home! This amazing feature offers many benefits in one and you will always be thankful for the added security, protection, and ease. As if all that wasn't enough, they are ecofriendly, too! Contact White Aluminum & Windows to learn more about our custom-designed carports.