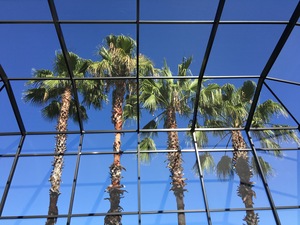 The Fort Myers climate was made for relaxing outside and enjoying all that Mother Nature has to offer. However, not every home here has an existing area for that purpose. Luckily, adding a patio enclosure to your property is a simple, straight-forward, and affordable process.
Improvements to the outdoor space of your property make for a wise investment. Not only are they a major contributor to overall resale value, but a pleasant and welcoming backyard is a natural draw for friends and family members to relax and enjoy life. Here's how a patio enclosure can add comfort and interest to your home:
1) Versatile Space
Every homeowner wants to take full advantage of the space available in and around their property. A patio enclosure (sometimes referred to as screen room) is a great way to instantly increase floorplan availability.
That means you'll get a new room that can be used for a variety of purposes. From the home office, to gym/exercise space, children's playroom, guest accommodations, dining/entertaining space, and much more, a sturdy and attractive patio enclosure can help make your life more efficient and enjoyable.
2) Safety, Security, and Peace of Mind
As mentioned, patio enclosures can quickly and easily be converted to a child's play den. That means when kids or grandkids are present, you can rest assured that they'll be contained to a monitored space, and not wandering around or getting into potentially-unsafe situations.
Pets benefit, as well. Especially for those homeowners who live near water or wildlife areas, the peace of mind that your pet won't be harassed by another animal is priceless. In times of inclement weather, patio enclosures make an ideal space for pets to exercise and get some fresh air.
In addition, crooks and ne'er-do-wells are deterred by open areas where their criminal activity can be easily detected. Security experts agree that most thieves will steer clear of an enclosed patio, knowing that their every move could be visible to the homeowners inside.
3) Curb Appeal
Any REALTOR® will tell you that if a prospective buyer isn't impressed with a home's exterior, they won't want to see the inside. In addition, neighbors and guests will be wowed by the transformative perspective room additions such as patio enclosures are able to create.
A bonus is that screened-in spaces make continued enjoyment of nature simple, even when the outside weather is bad. These structures keep out dirt, debris, insects, and unwelcome pets or guests. Also, you can relax in your enclosed patio no matter the time of day or night.
Furniture and décor also benefit from a protected space such as this. When you shield your belongings from the harsh rays of the Fort Myers sun, they'll last longer and look better than if left to the elements.
4) Affordable and Customizable
Your home should be a relaxing oasis where you can enjoy the best life has to offer. That's why it's essential to find property enhancement solutions that match your unique desires and requirements.
For more than six decades we've delighted homeowners like you with our innovative and exciting products and services. From pool enclosures in Fort Myers and the surrounding area, to sunrooms, retractable screen systems, storm protection, and more, we offer high-quality materials to help keep your family safe and comfortable.
Contact us today to discover how you can place a custom patio enclosure on your property and begin enjoying life to the fullest.