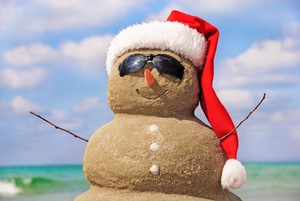 Where else but the Sunshine State do sand sculptures form a Thanksgiving tradition?
Embrace a tropical kind of holiday here in Fort Myers, where the 31st Annual American Sandsculpting Championship is taking place through November 26th.
Take a look below to learn more about the big event… as well as a few ways you can craft your own seasonal sculptures this holiday!
A sandsculpting craze of epic proportions
If you're interested in the world of competitive sandsculpting, you can't miss this event! Built on 31 years of creative tradition, the Championship does not disappoint. Last year alone, master sculptors from three continents competed for sand sculpture acclaim—putting up more than 52 sculptures in the process, a record for US competitions!
Visit to "ooh" and "ah" at the one-of-a-kind feats, or to get inspiration for your own sand sculpture endeavors! Speaking of which, we've got a few ideas listed below... try one out this holiday season:
Sandman
The Northeast has snowmen… here in Southwest Florida, we have sandmen! The basic idea behind this design is simple but endlessly fun. Just construct three spheres, each smaller than the one below it. Then spice it up with a pair of shades, a baseball cap, and a carrot (or maybe beach wood) nose.
Sandy Santa Claus
Spruce up Old Saint Nick's look by bringing him to the tropics! Once you get the man's shape down, add a surfboard to his side… or complete his look with a seaweed beard.
Rudolph the Red-Nosed Starfish
You'll only need a red pom-pom "nose" and a shovel for this simple design! Put an oceanic spin on everyone's favorite reindeer by shaping a friendly starfish and topping him off with a vibrant red nose.
Sand angels
While not a sculpture, per se, lots of fun and laughs are sure to follow when you create your own "sand angel," Florida's equivalent of the classic snow day tradition. Snap a few photos and use them in your family holiday cards!
We hope that today's blog helps you enjoy your Thanksgiving holiday, Sunshine State style!