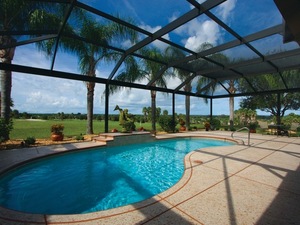 The right pool enclosure can cut down on cleaning time and help you save on your monthly bills, too! But did you know that with beautiful pool enclosures Fort Myers FL homeowners can also take their space to the next level of lux, carefree Florida design? Just read on to see some of our top tips for an aesthetically pleasing outdoor space!
Pick the perfect theme
Just like a beautiful resort, your pool and patio space can be themed to a unique area of the globe (think Mediterranean or tropical, for example), or a favorite design era like art deco or traditional.
Choose a color you love
Once you've selected a design theme you love, it is time to choose a color that suits that one-of-a-kind style! Classic white and bronze are both popular options that you can choose from based on your style preferences, your home's exterior coloring and other factors.
Shape smarts
With several different enclosure shapes to choose from, think about what each style would provide your patio and pool area! For example, a flat enclosure works just about anywhere and can be perfect for those with modern, streamlined tastes. Crave a touch of opulence? A domed enclosure will give a feeling of height to your space, making it look even bigger and more glamorous.
Complement your enclosure with beautiful broad-leafed plants
Your pool enclosure adds a degree of shade, but you can further the effect by surrounding your screened-in space with gorgeous broad-leafed plants.
Pick out patio furniture for a comfortable, luxurious seating area
Your gorgeous new screen enclosure doesn't just keep your pool or spa's water looking its best - it also promotes the longevity of your furniture below! Now is a great time to invest in patio pieces you love, like a comfy sectional or cafe table and chairs to extend your living space outdoors.
The team here at White Aluminum Fort Myers can't wait to help beautify your outdoor space with pool enclosures, patio covers and whatever else you may need! Get in touch with us today to learn more.