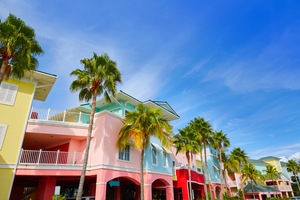 Waterfront views are breathtaking and hard to match--fortunately, in Fort Myers, we've got a lot of them!
If you live on or near the water in Fort Myers, you have unique access to an experience that represents the best of what Florida has to offer.
Is there a way to enjoy the comfort and luxury of home, while also taking advantage of that amazing waterfront experience? Of course there is! Take a look at today's blog to see our best ten tips for living by the water.
Safeguard your space...
When you move into a waterfront home, one of the first steps you take should be to safeguard your space. Consider secure features like a handrail that can keep pets and young kids from heading to the water unattended (and, conversely, to keep water-dwelling critters way from your home). If you have a pool or patio space, a screen enclosure can serve the same purpose. Both options can help you stay safe and secure while being visually unobtrusive, so that you can still enjoy those great water views.
...and optimize it, too
Additional features like mulch pathways can make your waterfront land more fun and accessible. Don't forget about lighting around your property so that you can see the water with ease--even at night, there's lots to see and admire!
Make time for waterfront fun
You'll of course want to make the most of your position on the water. Take advantage of your unique property by enjoying your morning coffee or family dinners outdoors, where you can enjoy the breeze from the water and the peaceful nature it brings.
Respect the critters that call the water "home"
Living on the water is pure fun--and it brings you closer to the waterfowl and other critters who call the water "home!". It's a great opportunity, especially for those who love all things animal. To coexist with the wildlife that dwells around the water, avoid duck feeding (or you'll end up with a very friendly, very persistent group of ducks who are always interested in what you're up to!), and take care in cleaning up trash and leftovers from your outdoor meals.
Incorporate the natural views into your home design
There are many ways to make your home reflect the look and feel of the water it overlooks. One idea is to dress up your kitchen, living space, and patio in aquatic-themed or nautical décor.
Another option is to continue the natural, waterfront feel in your pool and backyard, where you can use rocky, cascading waterfalls and other additions to make your space feel like another part of nature.
Supervise your surroundings
If you own a pool, you already know to practice supervision in keeping kids and pets away from the water's edge. The same holds true here! As we mentioned earlier, additional features like handrails, fences, enclosures, etc. can help make this job an easier one.
Landscape with water in mind
To ensure the health of your backyard and surrounding green space, use native plants to serve as a sort of buffer between the water and your home. Some flowers, shrubs, and plants do better in wetter environments than others, so be sure to ask your local nursery for tips in choosing the right species!
Consider a swimming school refresher
Even if the local water isn't ideal for swimming, it can still help to sign up the family for swimming lessons. This will ensure that everyone knows what to do should they ever find themselves in the water--of course, living in Florida, it's never a bad idea to learn this simple skill whether or not you live on the water!
Enjoy added privacy
Waterfront homes are sure to elicit lots of "oohs" and "ahs" from passerby on the water, if you live near a frequently-traveled waterway. You can help maintain a sense of privacy in your waterfront home by dressing up outdoor features (like a pergola) with breezy curtains, or using retractable screens on your patio to open up your home on your own terms.
Entertain with ease
Finally, the fun part! Entertain with ease by integrating outdoor living features (like refrigeration, built-in grill, wine cooler, etc.) into your space. Add lounge chairs to your outdoor space so that family and friends can soak up the views (and that great breeze) with ease.
We hope that today's blog helps you find the perfect balance between your home and the sparkling waterways that abound just beyond your backyard. Call White Aluminum today for help with these tips and more!