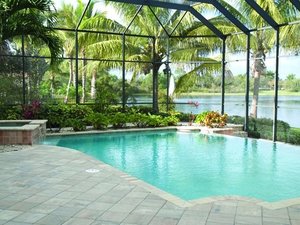 If you're lucky enough to own a waterfront home on Florida's gorgeous Gulf Coast, you naturally want to enjoy your breezy coastal lifestyle to the fullest! Fortunately, there are a few steps you can take — both practical and just-for-fun — that can help you achieve the perfect outdoor living space. As the go-to provider of pool enclosures Fort Myers FL residents and the surrounding area trust most, here are some of White Aluminum's top tips for your dream waterfront lifestyle. Take a look.
Add A Pool Enclosure For Peace Of Mind
Many waterfront homes on Florida's Gulf Coast come with beautiful swimming pools facing the ocean or river. A custom pool enclosure (in a style, shape, and color you love!) can help you enjoy the view without pesky insects, shorebirds or other water dwellers coming ashore for a visit in your splash space. A pool enclosure can also help some of the costs of heating or cleaning your pool, making it easier to enjoy all year long.
Set Up An Outdoor Room With A View
Another great way to extend your outdoor living space is with the addition of a pergola — complete with breezy curtains — or, perhaps, a sunroom that lets you enjoy the view from a cool, comfy, air-conditioned environment! By setting up a designated "chill spot," you will be able to entertain family and friends like never before.
Consider Impact-Resistant Replacement Windows
Living by the water also comes with some practical considerations. For example, your windows may wear down sooner than those of inland homes due to the salty air's corrosive effects — fortunately, White Aluminum's replacement windows can help! Not only will they showcase the waterfront view in gorgeous clarity, but they may also prove more resistant against the elements, from everyday salty air to strong summer storms and hurricanes.
Opt For Retractable Screens That Provide Total Flexibility
When you live by the water, you may crave the flexible freedom of a coastal lifestyle — and White Aluminum's retractable screen systems can help provide exactly that! With these motorized mesh coverings, you can enjoy wide-open fresh air or keep the elements out — it's totally up to you and your preferences for the day.
We hope that these tips help you lean into waterfront living! Get in touch with White Aluminum & Windows Fort Myers today to get started on your pool enclosure, pergola, and any other outdoor additions you may have in mind.