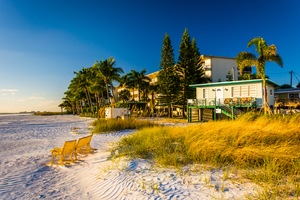 As a Fort Myers resident, you're never more than a few steps away from beautiful weather, great people, and endless summertime fun.
Take a look at today's blog for our top five favorite ideas on how to best celebrate summer in Florida's West Coast paradise.
Stroll around Centennial Park
In Fort Myers, there's more than one way to get your fix of beautiful waterfront views. Take, for example, Centennial Park. Located on the Caloosahatchee River, the sprawling park gives you a chance to enjoy the outdoors and soak up those great vistas without ever leaving downtown. It's the perfect spot to take the family for a picnic or afternoon stroll, or to get in your morning jog (before the heat of the mid-afternoon!).
Take the kids to the Imaginarium
Another family-friendly activity is the timelessly fun Imaginarium. With immersive, hands-on experiences and plenty of opportunities for kids to learn about (and meet) live sea animals, it makes for a perfect birthday party, afternoon outing, or rainy day solution. Plus, the Imaginarium's famously blue architecture and water tower are worth seeing in person.
Go wild at Estero Bay
To indulge your adventurous side, why not have an outdoor adventure at Estero Bay Preserve State Park? The preserve (the first of its kind in Florida) offers you a chance to truly experience nature and see how birds and other native wildlife interact with the water, marshes, and mangrove habitats that abound here. You can hike around and see it all by foot, or hop into a canoe or kayak and peacefully navigate the untouched waterways.
Visit the Burroughs Home
For a historical outing, visit the famous Burroughs Home! Located on First Street, the 20th-century mansion offers an immersive trip back to 1901, when the home served as a center of splendor and hospitality for the famous faces who made it their home. Inside, you'll find artifacts and interior touches of the time period--outside, a reflecting pool and luscious gardens. A trip to the Burroughs is a great way to get back to the roots of our beloved city.
Soak up some rays
What could be simpler than soaking up the sun rays this summer? Do it at the pool, at the beach, or on walks around local parks and shopping destinations. The simple act of enjoying the warmth--especially if you're from somewhere that's not so warm--is a fantastic way to spend long summer days. Just be sure to lather up and toss on a hat before you leave!
Whether your perfect summer is spent on the beach, at the pool, or soaking up the natural splendor, you'll find your niche here in Fort Myers. You just have to get out and find it!