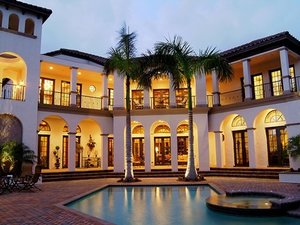 Florida is at its most beautiful during the cool, crisp fall months—and even when you're not enjoying the weather outside, you can still soak in the views from the comfort of home through clear new windows! With White Aluminum's PGT windows Fort Myers homeowners can beautify their space and enjoy some serious practical benefits, too. Just read on to learn more.
Effortless storm protection
One of the biggest reasons you might be considering a switch to PGT windows is, of course, the storm protection they provide. For everyday summer storms as well as hurricanes, our windows provide the impact resistance you (and your home) need to weather the weather with ease. Don't ever worry about scrambling to put up your hurricane shutters again! (Also, for the same reasons your PGT windows can protect your home from the elements, they can also serve as a protective barrier against potential intruders, too.)
Helping your furniture, flooring and drapes look their best
PGT windows prevent strong, sunny rays from infiltrating your home—so you can enjoy the sunshine without its damaging, fading impacts on your furniture, flooring and drapes.
A smart solution for salty-air environments
Here in Fort Myers, we love living by the beach! Our windows, not so much. Fortunately, PGT vinyl windows provide a more suitable salty-air alternative to aluminum frames, which may tend to pit with prolonged exposure to the salty sea breeze. With some simple, regular care, your PGT windows are set to look and function their best for many years to come.
Monthly savings
Because they are Energy Star-approved, our PGT windows can help you reduce your monthly energy bill! These windows prevent air from sneaking in and out of your home, so you can enjoy peace of mind at home or away knowing that you're not wasting money on air conditioning costs.
A serene, sound environment
PGT windows serve as a sound barrier between your home and the world outside, so you can enjoy your time indoors to the fullest with less street noise or other distractions!
Now that you know some of the big benefits of installing PGT windows in your Fort Myers home, let White Aluminum help you take this exciting next step! Give us a call today—we can't wait to work with you.