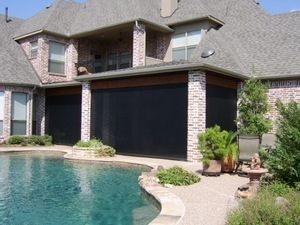 Here in the Sunshine State, where we're lucky enough to enjoy beautiful weather all year long, why limit your entertaining and family fun to one room? The Florida lifestyle is all about indoor-outdoor entertaining so you can enjoy the best of both worlds—and we're here to help you achieve it with ease. Just read on for some of our top tips.
Cover your patio space for clean peace of mind
Have a beautiful outdoor space, but don't want to deal with cleaning it up before guests arrive—or swatting away pesky insects? With the help of pool enclosures Fort Myers FL residents can achieve peace of mind knowing that their pool and patio is clean and always up for family fun and entertaining.
Add recurring motifs for effortless "flow"
If your entertaining extends from the kitchen to the family room to the patio, you can add recurring motifs or repeating elements to help all of those different spaces feel more connected. This can be done in the form of music—simply play the same playlist from your indoor and outdoor speakers—as well as elements like floral arrangements or even color-coordinated accents. And of course, you will want to provide ample lighting throughout so that you and your family can easily move from indoors to outdoors without needing a flashlight to guide the way.
Make your screened space more flexible
Want the benefits of a screen room without the commitment? Our retractable screen systems are for you! Instantly turn your screened-in patio into an extension of your backyard, making more room for outdoor games and family fun at the touch of a button.
Entertain safely
Another big benefit of retractable screen systems is that they can foster more socially distant gatherings with loved ones! You can open up your screen room and spread out without feeling disconnected by a wall or screen between you.
Dig in with ease
Food, of course, is essential to any indoor-outdoor gathering! Whether it's the big game or family dinner, you can help keep food fresh and pest-free with the help of screening. If mosquitoes are a problem, surrounding your outdoor space with citronella torches can be a fun, functional addition.
We hope that these ideas help you enjoy downtime in (and out of) your home to the fullest! For assistance with these exciting projects and all elements of Fort Myers home improvement, call White Aluminum today. We can't wait to help you realize your one-of-a-kind vision.