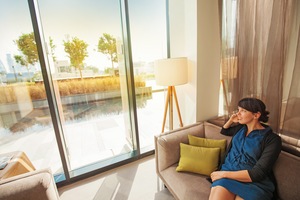 An often overlooked feature, windows are essential to the overall utility and aesthetics of any home. Windows not only assist in climate control, they create an inviting and relaxing ambiance for friends and loved ones who visit your property.
In addition, properly placed windows create a sense of style and sophistication. This contributes to greater curb appeal and improved property value. Learn more about how replacement windows in Fort Myers can make a big difference to your home's appearance and function.
1) Powerful First Impressions
People naturally gravitate toward structures and locations that are pleasing to the senses. Updating your windows breathes new life into your home, contributing to a heightened pride of property, as well as aesthetic interest for neighbors and passersby.
More than just letting in light, windows can also make an impactful statement. High-quality aluminum window treatments demonstrate that you're a homeowner aware of and in tune with home fashion and exterior décor.
If you ever choose to sell your home, REALTORs® assert that outstanding windows contribute to the total package incentive for prospective home buyers to make an offer. Best of all, rather than the lengthy and expensive process of major renovations, installing PGT windows in Fort Myers is simple and affordable.
2) Comfort and Creativity
Home windows protect us from the elements, but also allow in natural light. Especially in Fort Myers where the sun shines strong most every day of the year, that contributes to a greater connection with nature.
Then there are the energy-efficiency benefits that come along with new windows. Today's models are designed to significantly reduce home heating and cooling costs, while keeping out harmful UV rays. That means people inside your home can remain calm and cool any time of day or year.
3) Reduced Maintenance
If you've ever lived in or visited an older home, you know malfunctioning hardware can be a common occurrence. Older windows often stick, plus it seems like every season window treatments have to be cleaned, re-painted, and even replaced.
By contrast, high-quality aluminum is naturally rust and water resistant. Our window treatments come in your choice of attractive black or dazzling white. This hardy material is able to withstand even the harshest Fort Myers elements. In addition, sturdy aluminum can hold its own in times of severe weather.
Plus, robust vinyl windows are easier to clean and maintain than standard single-pane varieties. That means you'll spend less time dealing with window work and more time enjoying time spent with friends and loved ones.
4) Improved Quality of Life
Another benefit of new windows is their sound-masking ability. That means you can maintain a peaceful indoor environment even when outside noise is present (such as construction sounds, barking dogs, neighbor parties, and more).
In addition, properly sealed windows prevent air leaks, which results in lower energy costs. You'll also benefit from improved climate control — keeping you cooler in the summer, and warmer inside when the external temperature drops.
High-quality windows also add an extra element of security. Impact-resistant glass deters criminals and prevents damage from severe weather such as hurricanes or tornadoes.
5) Expert Installation
As mentioned, installing new windows on your property is a straight-forward and cost-effective endeavor. Plus, it's a home improvement project that will offer an excellent return on investment for years to come.
When you work with us, you get the peace of mind that comes from a company with decades of experience. Along with replacement windows, we specialize in screen rooms, awnings and shutters, Florida room additions, pool enclosures, siding/soffit, storm protection, and more. Contact us today to learn how we can help with all your property improvement desires and requirements.