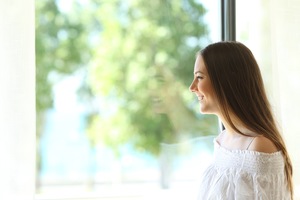 There's nothing quite like admiring beautiful outdoor views, and immersing yourself in the natural environment that abounds just beyond your home.
What if you could do that all from indoors?
We're not talking about a virtual reality experience. We're talking about acrylic and vinyl rooms, and how they blend the best of indoor and outdoor spaces for an experience that's truly unique.
Take a look at today's blog to see how an acrylic or vinyl room can bring you (and your Fort Myers home) closer to nature.
An all-weather solution
Acrylic and vinyl rooms are more than mere room additions. Typically, they make use of a space you already have on hand (a lanai, porch, patio, etc.) and turn it into something that's more suitable for entertainment in all kinds of weather.
If you love to have friends and family over for dinners, parties, or casual get togethers, the weather consideration is especially important as we head into the wet season. Summertime is perfect for entertaining of every type, but it does come with its share of unexpected weather. By housing your current entertainment space under a protective "shell" made of acrylic or vinyl, you can avoid the effects of unwelcome weather because rain or shine, you can use that space.
A big perk of our vinyl rooms is their flexibility. Our optional horizontal slider windows and vertical paneling give you a chance to open up your room to fresh air on your terms. Mild, sunny day?
Open them up! Rainy day? Keep them closed and enjoy the view from the comfort (and dryness) of your room.
A way to maintain your outdoor space
Sometimes, outdoor entertaining spaces are just too much to keep clean (especially if you don't use them often). Take away the hassle of upkeep that comes with weather, leaves, and outdoor debris by turning your outdoor space into an acrylic or vinyl room. You can still enjoy the benefits of having that extra space, without needing to spend your weekends cleaning or maintaining it more than other areas of your home.
A valuable addition
All in all, the addition of an acrylic or vinyl room just makes sense. It can add to the value and overall appeal of your home, while giving you an added space for fun/entertainment/relaxation/whatever else you may need. It also prevents a more secure alternative to open-air spaces--in the case of our acrylic rooms, for example, your home and belongings will be protected by a strong barrier that offers you much-needed peace of mind.
As you can see, the benefits of an acrylic or vinyl room go far beyond looks alone. Call us today or browse through our website to learn more about this one-of-a-kind feature!