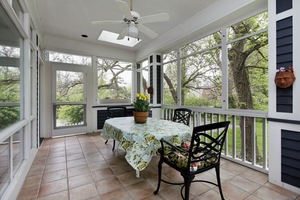 Fall isn't just about pumpkin carving, trick-or-treating, or indulging in sweet, hot drinks—it's the sum of all these things, enjoyed in a place that truly feels like home!
That's the kind of environment a screen room can provide—and if you haven't already, we think fall is the perfect time to build one! See why we love this easy addition in today's blog.
It brings you closer to nature…
Summer may be the universal season of outdoor fun, but here in Florida, the fall is just as beautiful with equally abundant amounts of activities to enjoy. Why stay cooped up indoors and distance yourself from all there is to see?
A screen room puts you closer to the natural vistas you love, including the lush foliage that—believe it or not—does tend to take on a warmer hue come the later fall months, depending on the species. Plus you're able to get closer to those crisp, clear blue skies and brisk fall weather that greet us later in the season.
… while still giving you those cozy touches of home
With a screen room, you never have to choose between the coziness of home and the brilliance of nature. Being anchored to your home means that you can study, read, or use your computer (even in the rain or glaring sun) and hold onto a comfy throw blanket on cooler days.
It eliminates seasonal litter
Like we said, Florida's trees can change (albeit subtly) in the fall. That means more leaves falling down, potentially cluttering up your patio space. Having a screen around that space makes it easier to enjoy your time there, without having to constantly sweep up fallen leaves, seeds, and other debris.
It simplifies storage, too
What's one to do with all of the gear from summer—the bikes, pool floats, outdoor toys and more? One easy solution is to store it along the wall of your sunroom. Since outdoor fun in Florida is never out of the question, year-round, you can stow these items away without having them be inaccessible the next time you want to use them (which, like we said, could be anytime!).
It extends your entertaining space
If your fall holiday gatherings get bigger by the year, don't worry. Extending your entertaining space with a screen room can help you host friends and family with ease, so you have plenty of room for Halloween parties, Thanksgiving dinner, and much more.
Ready to add the classic charm of a sunroom to your own home this fall? Call White Aluminum & Windows Fort Myers—we're here to help!