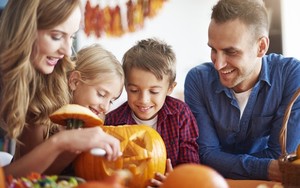 Happy Halloween! We think this spooky holiday is best celebrated with family by your side… ghouls, goblins and all.
Here in Fort Myers, there are plenty of family-friendly ways to enjoy the holiday! Take a look at today's blog as we share a few of our favorites.
Fall & Halloween Festival
Looking to get a head start on the Halloween fun? Starting on Friday, October 13th, the whole family is invited to come out to Lakes Regional Park, where the Fall & Halloween Festival is sure to deliver fun for the whole crew. Whether you're searching for the perfect pumpkin patch photo, or want to hop aboard the park's train (aptly named the Halloween Express), this festival has you covered. Enjoy the event on weeknights from 6 to 9 pm, or on Saturday and Sunday from 10 am to 9 pm.
Yappy Hour
Fido wants to get in on the fun, too! For your four-legged friend, Yappy Hour at the Bell Tower Shops is that place to be. The "Howl-O-Ween" iteration of this monthly event will give you a chance to walk around with your pup, enter him in a costume contest, and meet some fellow dog lovers! Be there on October 13th at 6 pm, and 7 pm for the contest.
Hogwarts Halloween
If yours is a family who loves Harry Potter, you can't go wrong with this fall event! On Sunday, October 29th, the Gulf Coast Symphony Orchestra will be performing the beloved films' soundtrack (as well as other familiar seasonal tunes). The kids are invited to dress up for the costume contest and even enjoy some trick or treating at the event, too, which takes place 1 pm at the Barbara B. Mann Performing Arts Hall.
A spirited Halloween bike ride
Sticking close to home this Halloween? For a new way to show off your costume, try a family bike ride around the neighborhood or along your favorite waterfront destination! So many costume ensembles work for this activity (from the classic bike riders of E.T. to your favorite superhero team), and it's one of the best ways to enjoy the brisk fall air this Halloween!
We hope that today's blog helps you enjoy Halloween alongside the people you love best!