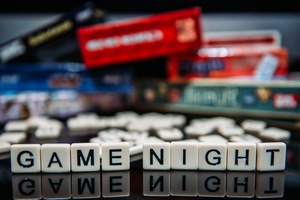 For those who can never stop counting the days until the next family game night - and those whose board game collection is seriously starting to take over the house - a designated game room might be the perfect use of your Naples sunroom! Check out our top ideas for this fun-filled space below.
Create a fun, relaxing environment
The perfect game room begins with a fun, relaxing environment! Don't feel the need to make this a perfectly designed, color-coordinated part of your home - think of it more like a zany escape from the everyday! Colorful twinkling string lights are a fun addition, as are accent chair in wild shapes and colors. Choose a comfy, shaggy rug or two for a relaxing place to sit during high-stakes board games.
Add your favorite games
Now comes the fun stuff! You can set up different areas for different types of games - and depending on how large your family is, you might even have several games going on at once. Some of our favorite ideas include...
Pool, ping pong or air hockey table (or better yet, all three in one)
Board game station (and accompanying cupboard for ample storage)
Puzzle corner, perfect when you want to reflect solo or built together as a group!
Card table for high-stakes fun
These days, many of us have even found ways to connect with friends and family with online "party room games." Set up a convenient corner for computer sessions, but be warned... your beautiful Sunshine State surroundings might just make all of your opponents pretty jealous.
Don't forget the snacks
It wouldn't be a true game night without game night fuel! You can even create a mini snack station with your favorite chips, cookies and go-to treats, plus a mini fridge stocked with your refreshments of choice. It's a small touch, and maybe not completely necessary with your kitchen just steps away - but it helps make your game night feel more like an escape from reality. Like the arcade of your childhood... but better.
We hope that these ideas help you enjoy your fun-filled space to the fullest! If you don't already have a sunroom of your own, call White Aluminum Fort Myers today. We proudly serve the home improvement needs of Gulf Coast homeowners just like you, and have been doing so for more than 60 years!